If you are like us, knowing what is trending and what items are best sellers can sometimes help you make decisions when buying decor for our own home!
If you have been wondering which of our ceiling fans are hot items to keep you cool- look no further! We've got you!
It's hard to believe that over half of 2021 is already behind us! With six months under our belts, the design experts at Prominence Home are here to predict what the top best-selling ceiling fans of the year will be.
With a variety of distinctive features, high-quality designs, and exceptional beauty, there's no wonder why these are our customers' favorite picks (and some of ours, too).
Before you invest in one of our best ceiling fans of the year, let's talk about what makes each of these fans so special and why they're worth inviting into your own home.
Best Overall: Matte Black Espy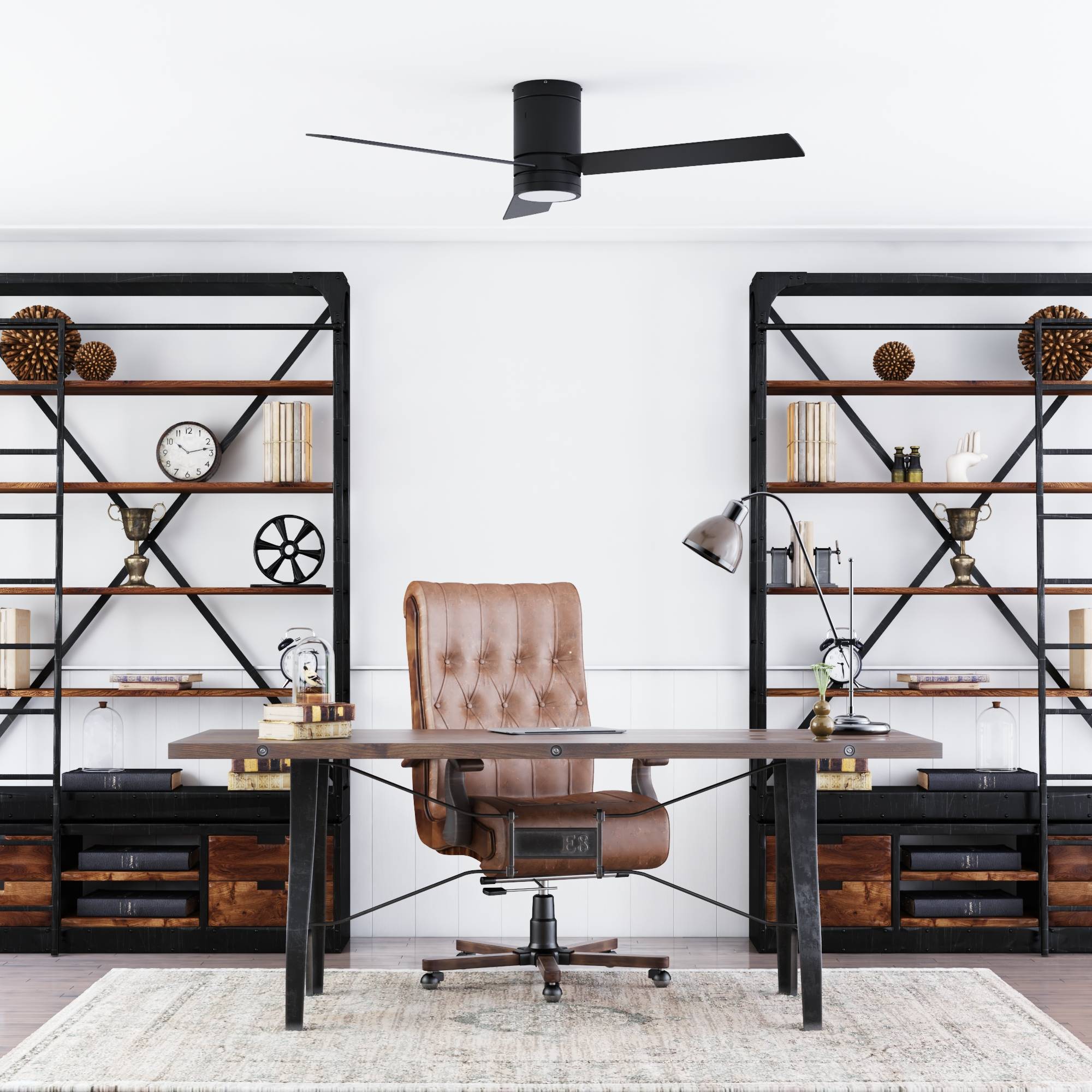 Just one look at this sleek, modern indoor ceiling fan, and you'll see why everyone loves the matte black Espy. Its understated design makes it versatile enough to work in a variety of different spaces ranging from rustic and industrial to classic and minimalist.
Pair its smooth black finish with matching black blades that make for a subtle yet eye-catching fixture while the honey birch blades are an ideal match to enhance the coziest of spaces.
The matte black Espy's handsome appearance is only part of what makes it a fantastic fan for the modern home. With a 52" span, the Espy can effortlessly circulate air around even the most spacious of rooms in your home, ensuring that your favorite living spaces stay at your ideal comfort level all year long.
Additionally, the Espy comes with an amply, fully integrated LED board and boasts 1400 lumens, 18.5 watts, 2700K color temperature, and is dimmable from 10-100%.
With its easy-to-use remote control, you can control the amount of light output and air circulation making it simple and convenient and putting you in control of your comfort with one click of a button.
Complete with clear, user-friendly instructions, installing the matte black Espy can easily be accomplished in under one hour. In terms of style, versatility, comfort, and convenience, the matte black Espy has it all, making it the best overall Prominence Home pick for 2021.
Best Tropical: Bronze Ocean Crest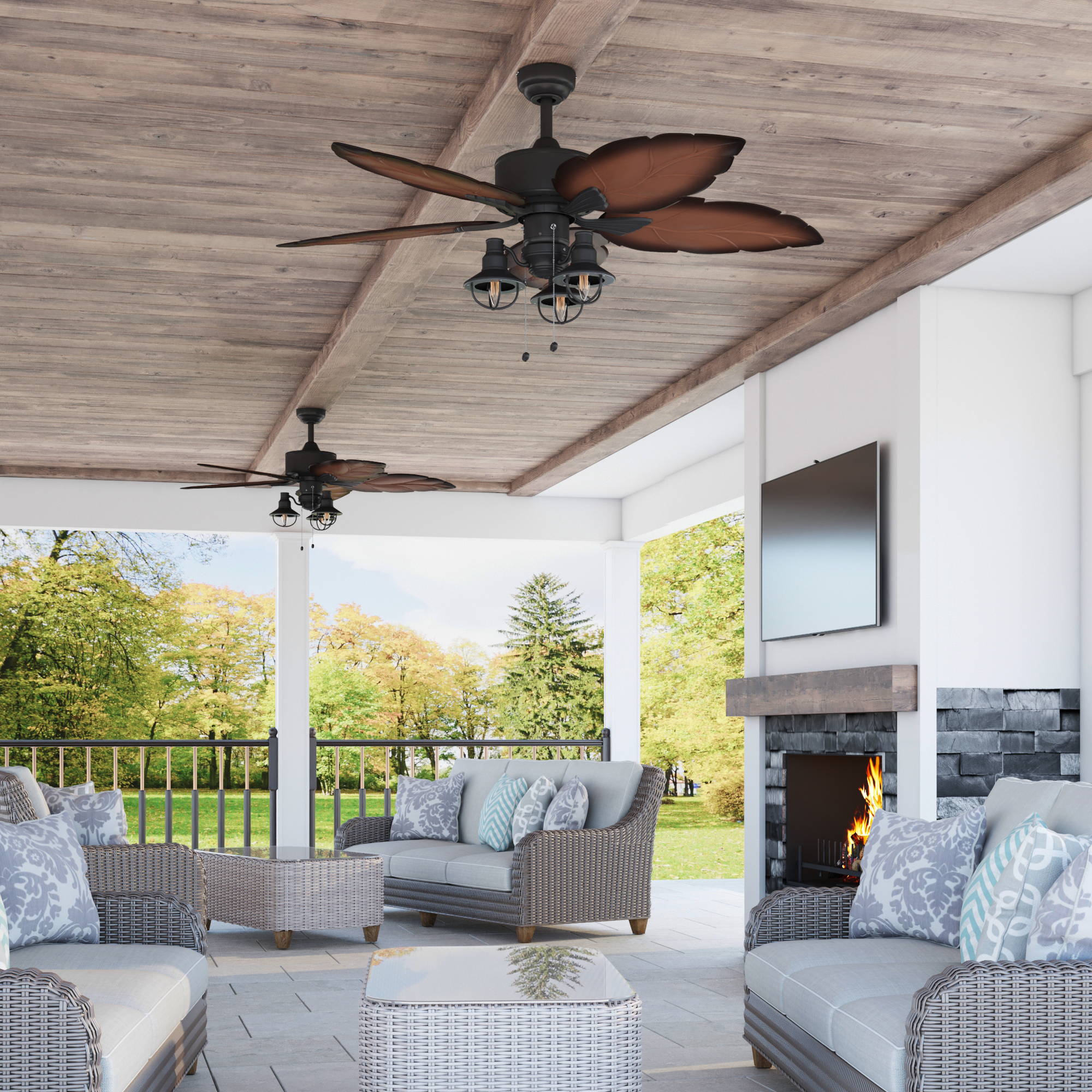 Who doesn't want to feel like they are in a resort on a tropical island every time they wake up in their own bed? With the bronze Ocean Crest, you can. Dreamy, durable, and functional, the bronze Ocean Crest ceiling fan is designed for indoor and outdoor use, making it a great option for patios, porches, and other spaces exposed to the elements.
Its gorgeous leaf-shaped blades are sure to make a statement and become the focal point of any space where they dwell. The Ocean Crest's bronze finish will make a beautiful complement to any coastal contemporary-inspired home.
The bronze Ocean Crest is as practical as it is attractive. With its convenient remote control, you can control the amount of light and air speed with the touch of a button, allowing you to stay cool in the summer and warm in the winter.
The bronze Ocean Crest's 52" blades make it a wonderful option for medium to large-size spaces, including living rooms, dining rooms, bedrooms, and patio areas.
Thanks to its high-quality, durable design, you can remain confident that your home will be stylish and comfortable for years to come with the bronze Ocean Crest cooling it, whether indoors or out.
Best Boho Chic: Champagne Atlas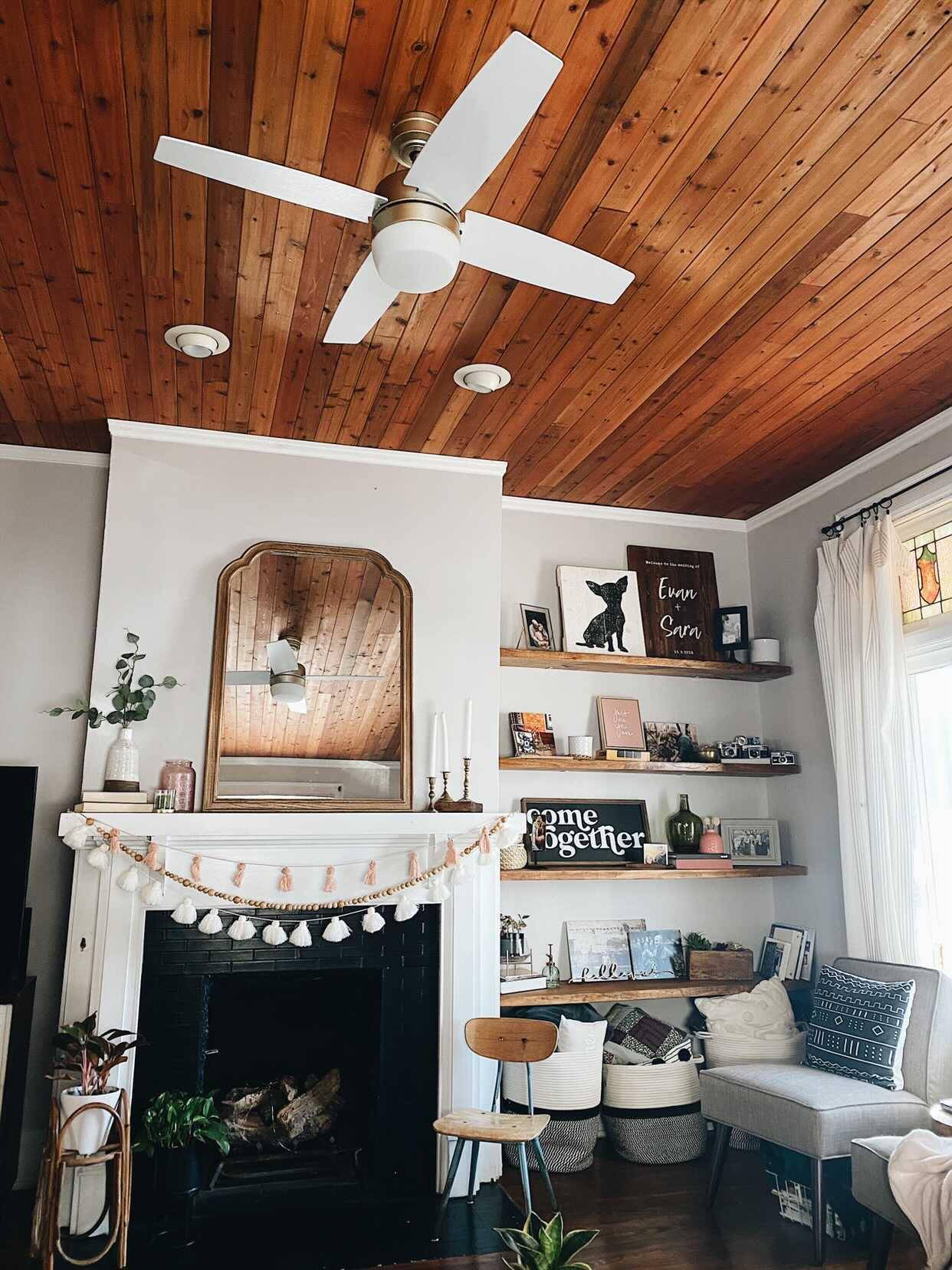 Instagram 📷 @saragreencollective
For the ultimate Boho chic indoor ceiling fan, the champagne Atlas' name says it all. Its clean, contemporary design makes it the ideal accent to spaces looking for a touch of glamour and sophistication. The champagne Atlas indoor ceiling fan comes with two dual-reversible blades.
This gives you the option to pair the stunning champagne dome with crisp, white blades for a sleek, modern aesthetic or the smooth honey oak blades to put a unique touch on the room while keeping the decor balanced.
Its 42" blades make it the perfect size for cooling and circulating air around medium to large rooms, including bedrooms, dining rooms, home offices, and more.
The champagne Atlas won't just enhance the beauty of your home, it will make it more comfortable and convenient than ever. With its included remote control, you can dim the lights of the Atlas or choose between three-speed settings to ensure that the room is just how you like it.
The Atlas' quiet motor will make sure that your room stays cool without any annoying humming, buzzing, or clicking. Better still, the motor can be reversed with the click of a button to keep your home as cool or warm as you like, saving you money on your power bill and the hassle of swapping out fan blades.
The champagne Atlas is the perfect accent for the most glamorous or most chic of spaces in your home.
Best Coastal: Bright White Kailani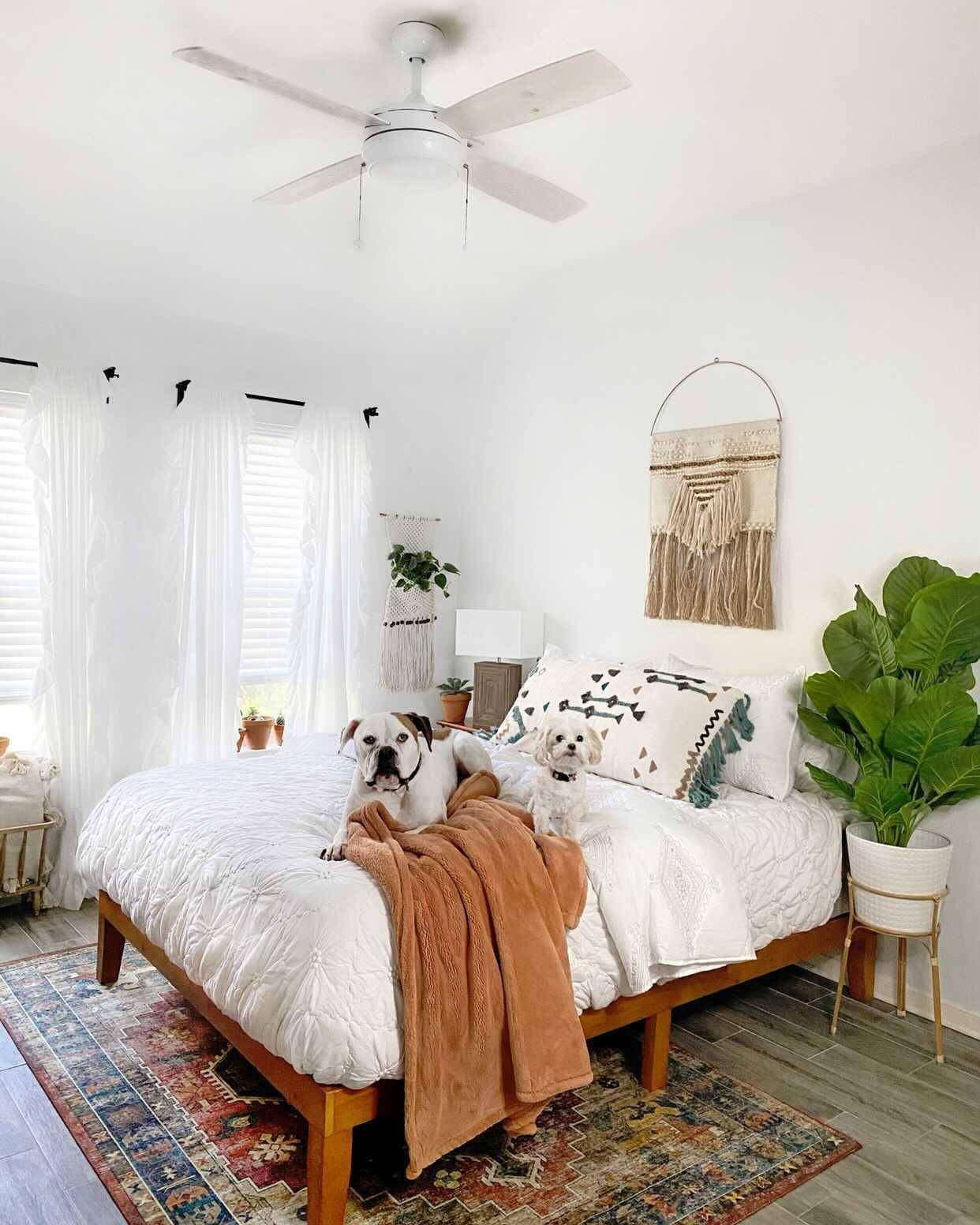 Instagram 📷 @samiskarpa
If you're looking for the perfect indoor ceiling fan to incorporate into your vacation home in 2021 or make your ordinary home feel like you're on vacation, look no further than the bright white Kailani.
Casual, luxurious, and eye-catching, the bright white Kailani is the perfect option to illuminate your coastal-inspired home in style. Its crisp white finish is paired with a sleek, impressive dome that boasts an integrated 4-inch LED light board, 18.5 watts, 1,400 lumens, and a color temperature of 3000K.
The bright white Kailani comes with dual-reversible fan blades, making it easier than ever to change up the look of your space whenever you like. Choose the matching white blades for a chic yet casual look or the white maple blades to add an element of rustic charm to any of your favorite living spaces.
Its generous 52" fan blades make it an ideal option to cool nearly any medium to large room in your home, including living rooms, kitchens, bedrooms, and more. Additionally, the bright white Kailani offers dual-mount capability, making it a wonderful option for angled and flat ceilings alike.
With its understated yet sophisticated appearance and convenient features, the bright white Kailani will make you feel like you're at the beach all year long.
Best Industrial: Matte Black Marshall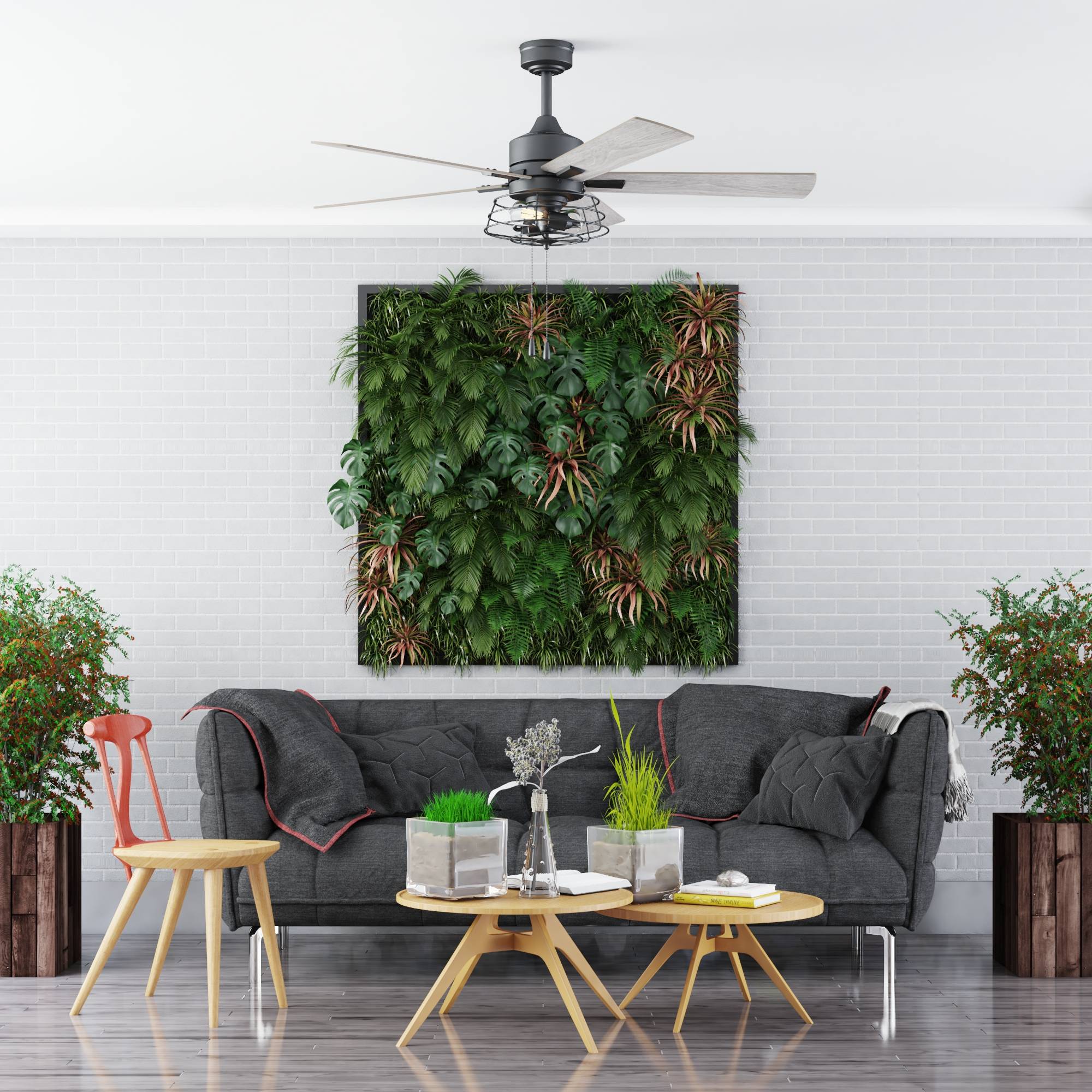 Industrial home decor has grown in popularity in recent years and is still going strong in 2021. Fortunately, Prominence Home has the perfect indoor ceiling fan to bring your ultimate industrial spaces to life.
The matte black Marshall offers texture, character, and personality that will be anything but ignored. Its stylish Edison light bulbs are encapsulated in a one-of-a-kind cage-inspired dome and are dimmable from 10-100%, allowing you to effortlessly lower or brighten the lights to meet your needs at any moment of the day.
The handsome black matte finish of the Marshall is complemented by one of two charming fan blades: rich bamboo or subdued gray oak. Both fan blades would work beautifully alongside other industrial features of your home, such as brick, greenery, or metal elements.
The matte black Marshall's two pull chains make for quick and easy on and off adjustments, or feel free to purchase a universal remote control separately to control your gorgeous industrial fan without ever moving from your seat.
The Marshall also comes complete with tri-mount capabilities, giving you the option to hang it in a low-profile fashion for more walking space, standard, or at an angle. With its edgy, distinctive, and contemporary appearance, it's no wonder why folks love the matte black Marshall indoor ceiling fan.
Best No-Light: Gun Metal Journal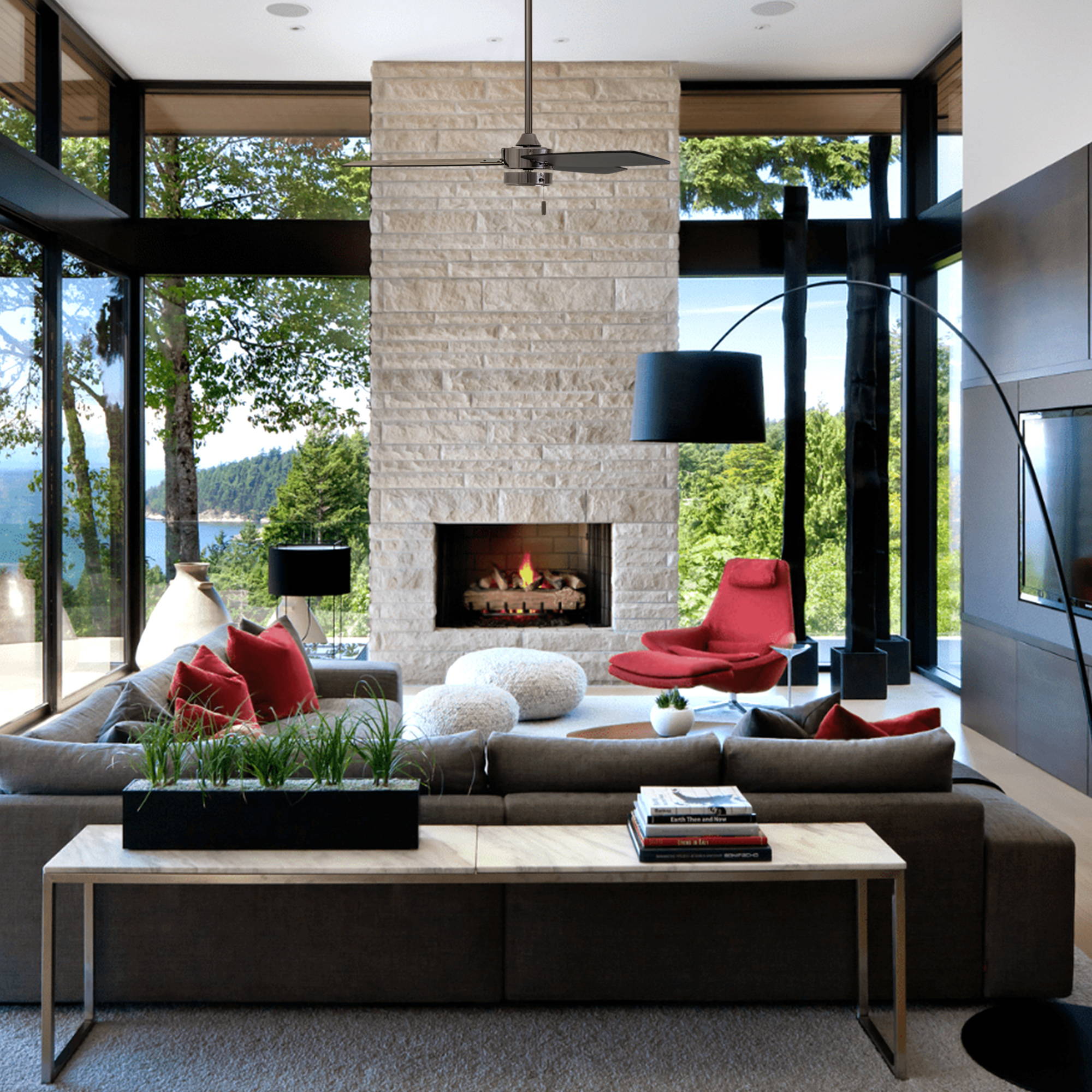 Who says that a ceiling fan has to have an ambient light source to add comfort and charm to your home? With the gun metal Journal ceiling fan, you can make a statement indoors and out without ever switching on a light.
With an emphasis on style and function, the deep gun metal finish of this fan makes it as contemporary as it is efficient. Its 52" fan blades allow it to circulate air around large living spaces with ease. The blades also come in two stunning finishes: silver oak and carbon fiber.
The silver oak provides a rustic, casual feel while the carbon fiber gives off a distinct, refined aesthetic that is sure to impress anyone who steps foot in your home.
The Journal's quiet motor offers three-speed settings as well as a reversible airflow feature that can be conveniently adjusted to change the direction in which the air flows, enabling you optimal comfort no matter what the weather may be.
Because it's damp rated, the gun metal Journal is able to be hung both indoors as well as covered outdoor spaces, such as patios, pergolas, garages, breezeways, and more. Contemporary and masculine yet sleek and charming, the gun metal Journal is sure to put a unique touch on any living space in your home.
Best Modern: Bright White Enoki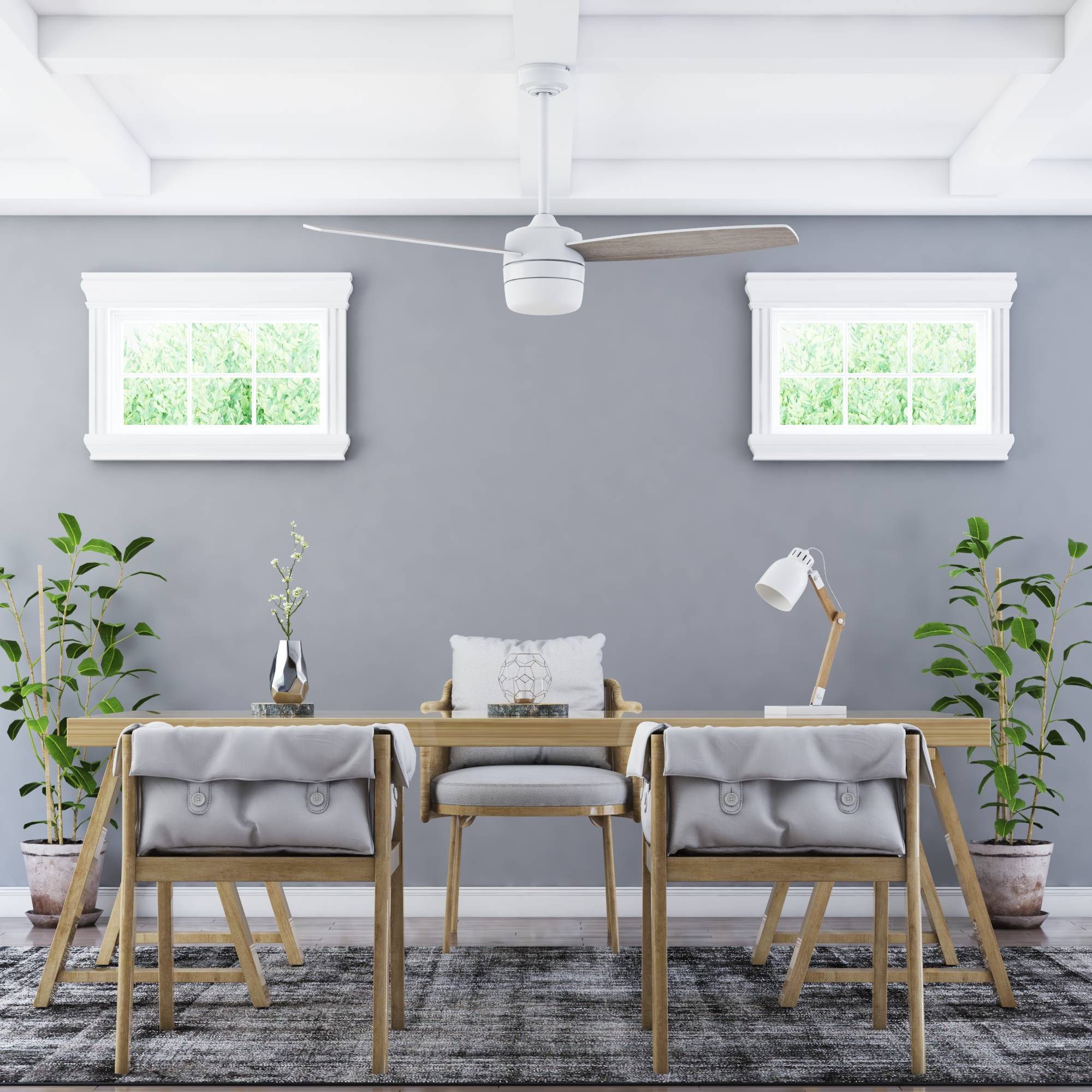 Modern home decor is all about embracing authentic simplicity, and that's precisely what the bright white Enoki embodies. The bright white Enoki's clean design and light finish make it an ideal option to illuminate your home with subtle beauty.
The bright white finish comes with two options of dual-reversible fan blades, including white and gray oak. Choose the matching white blades for a minimalist yet elegant result or the gray oak to achieve a cozy, cottage-inspired feel.
Being the top pick for Prominence Home's best modern fan, the Enoki offers smart features that make it as convenient and easy to use as it is gorgeous. This indoor ceiling fan works with Alexa and Google Assistant and is powered by FansIO, giving you the option to control the Enoki with your voice, with the included smart remote, or via the FansIO app, which can easily be downloaded at the App Store or Google Play.
Its quiet, reversible motor will ensure that you stay as comfortable as possible all year long while potentially saving money on your energy bill. With one-of-a-kind style and convenient smart features, the bright white Enoki stands apart from the crowd as the best modern Prominence Home fan.
Find Your Perfect Fan in 2021
Looking for a new ceiling fan to bring a space in your home to life? Prominence Home can help. Before you purchase the first ceiling fan that catches your eye, be sure to ask yourself these important questions to ensure you find the best fan possible:
Location: Will the fan be exposed to the elements in an outdoor setting? If so, be sure to choose one that is designed for outdoor use.
Scale: Will the fan fit in the space? Be sure the fan is small enough to fit in the space but large enough to easily circulate air around the entire room.
Mounting Options: If your ceiling is angled, does the fan offer dual or tri-mounting capabilities?
Lighting: Will the space require an ambient light source? If so, how bright should it be?
Control Features: Are smart features important to you? Does the fan you like come with a smart remote or other add-on capabilities?
Style: Will the fan work well with the existing décor of your home? Do you want the fan to stand out or blend in?
---
Whether you are looking for a unique outdoor fan that can make you feel like you are on a tropical island, you're striving to put the perfect finishing touch on a glamorous bedroom, or you're hoping to make a bold statement in a modern, industrial space, we have an array of stylish, durable ceiling fans that can help maximize the comfort and convenience of every room in your home.
To find the ideal fan for your living space in 2021, shop our selection today. The comfort and beauty of your home is worth investing in. We can help you do just that.
Want to read more tips, tricks, and how-to guides?
Check out our

Fan Talk

section for more info on all things ceiling fan, lighting, and home décor.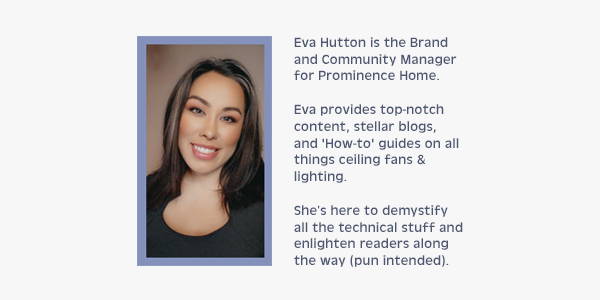 Sign up to hear about the latest news and exclusive offers