Description
If you're looking for the crystal ceiling fan that'll have your guests do a double take, then this glam fan is for you! The crystal drum lighting element allows a beautiful cadence of beams to glisten throughout the room, with the brushed nickel finish and reversible blades adding the finishing layer of sophistication.


GLASS CRYSTAL CEILING FAN WITH LIGHT: Crystal ceiling fans are all the trend; Looking at this fan, the glass light fixture has distinguishing elements to give it that crystal appeal leaving us in absolute awe.


TRADITIONAL & CHIC GLAM FAN FOR LARGE ROOMS: With 5 fan blades and a 52 inch blade span, this glam ceiling fan embodies a luxe, classic style.


EASY INSTALL: Our unique installation eliminates all those unnecessary screws and makes attaching the blades as simple as 1-2-3.


INDOOR USE: Install this fan in an indoor room to protect its natural beauty and style.


5 REVERSIBLE BLADES: This brushed nickel ceiling fan showcases 5 reversible and powerful blades which offer two distinct shades of wood: gray oak and chocolate maple.


REMOTE CONTROL / DIMMABLE LIGHT: Use the light or the fan independently (or together) with the included remote control. To dim the light, simply hold the light icon down, and the LED light will start to dim.


ALL SEASON MOTOR: Every Prominence Home fan comes with our signature 3 speed, reversible motor. This awesome feature allows the fan to work in any season: providing a cooling effect in the summer, or when reversed, spreading warmth in the winter.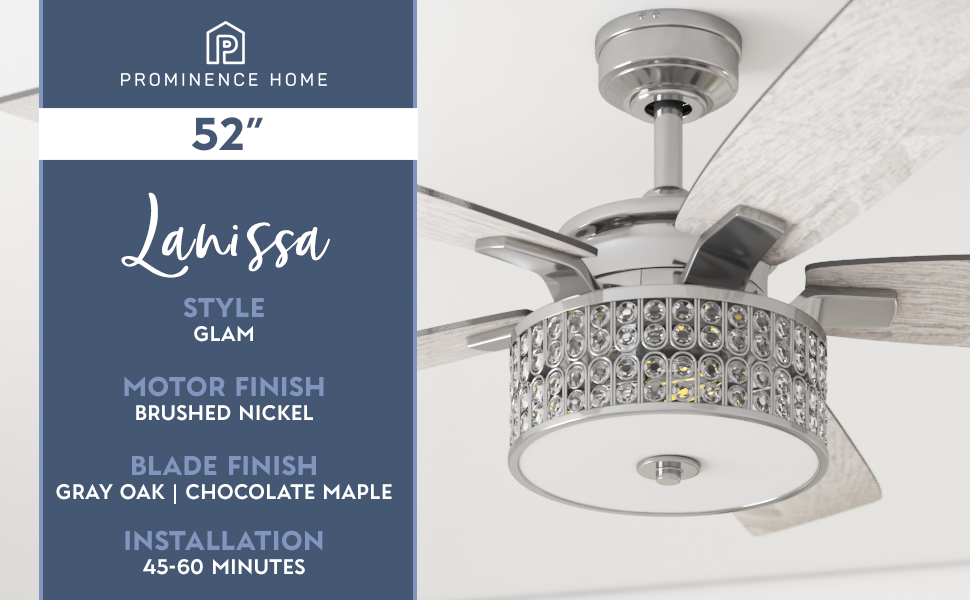 Read the latest from our Blog