Location
The installation location is an important factor in selecting a fan. If you are upgrading multiple fans in your home, think about this one space at a time. Consider:
Outlet Box
Ceiling fans are attached to your home by an outlet box. This outlet box needs to be "CEILING FAN RATED" and securely fastened to the building structure/joist. We do not recommend the use of plastic outlet boxes as they typically can't support the weight of a ceiling fan long term.
If you are building a new home you might be deciding where in each room to place the ceiling fans and lighting. Most people would automatically place the ceiling fan in the middle of the room. In most cases, this will work out just fine but realize the direct center of the room might not necessarily be the ideal place for a ceiling fan's circulation and overall functionality.
In many areas of your house, part of the room might be used as a walk-way. In these instances, it might be ideal to center your fan over the space intended for a seating area in order to give maximum comfort in the areas you are most likely to hang out.
In bedrooms, you might want a ceiling fan directly in the middle of the bed where the residents intend to sleep. Taking the extra time to go over these details beforehand can help maximize both the comfort level and the overall visual aesthetic of your home.
Indoor vs Outdoor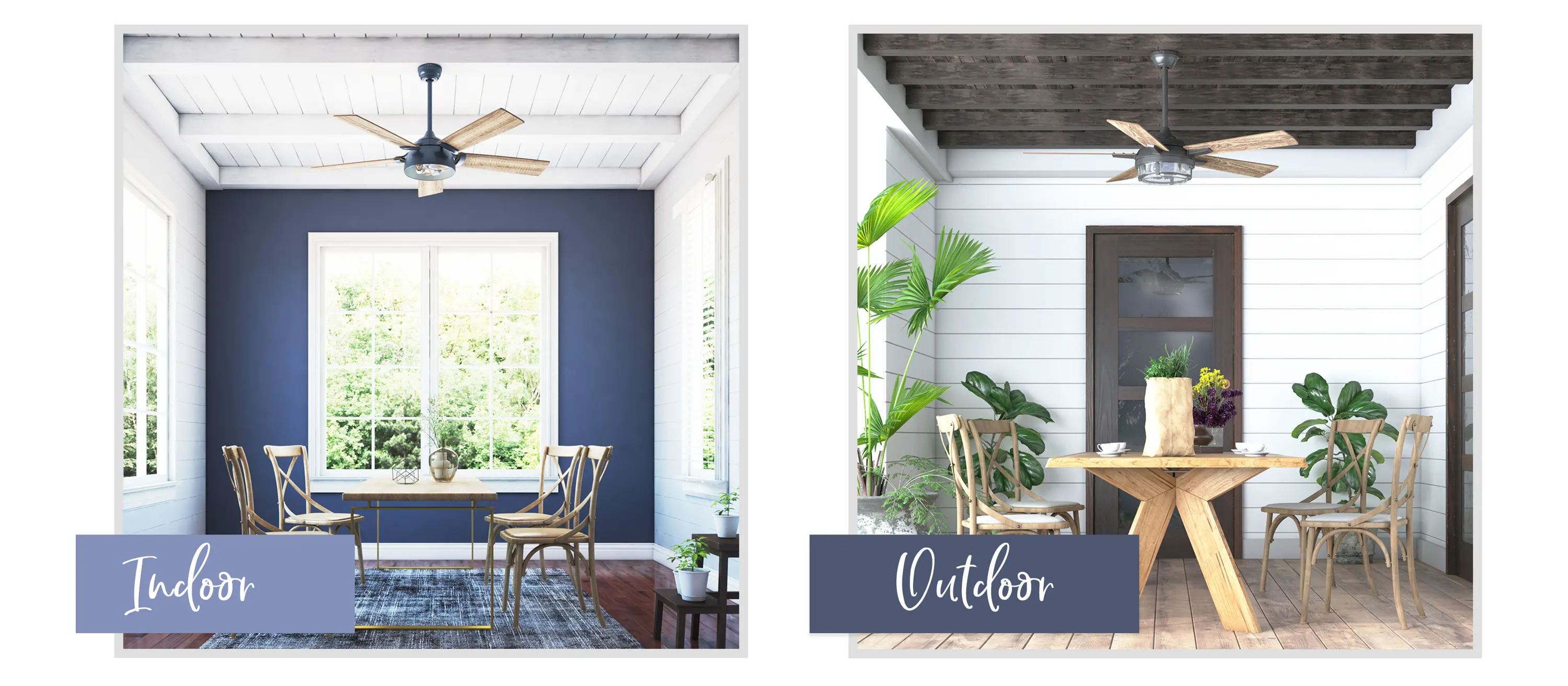 Relaxing on your porch on a warm summer day is much more enjoyable by the cool breeze of an outdoor ceiling fan! The best sleep you can get might be tucked into a comfy, cozy bed with the indoor ceiling fan on full speed.
While most people categorize ceiling fans as being indoor ceiling fans and outdoor ceiling fans, did you know that there are certain rooms 'inside' your house better suited for an 'outdoor' ceiling fan?
Every Prominence Home ceiling fan has been laboratory tested and given an Electrical Testing Laboratories (ETL) rating. Ceiling fans are divided into three categories: dry rated, damp-rated, or wet rated.
ETL dry-rated fans are often referred to as indoor fans. They are perfect for bedrooms, living rooms, great rooms, dens and more, but should not be placed outside or in humid locations! All ETL fan ratings can be used indoors but not all fans can be used in damp or outdoor locations.
ETL damp-rated fans are moisture-resistant but NOT built for direct exposure to the harsh outdoor elements. They are designed for covered porches and covered patios but also suggested for bathrooms and garages. Any indoor area that is frequently humid will require a damp-rated fan.
ETL wet-rated ceiling fans are built superhero-strong and can easily handle the intense rain, snow, and ice of the outdoors. These fans are built for use in all-weather areas such as pergolas, decks and more. They can also be used indoors or humid/damp rooms if you prefer.
Choosing a model with the correct ETL rating for your space will protect the warranty, extend the lifespan of your ceiling fan and the safety of your home.
Fan Size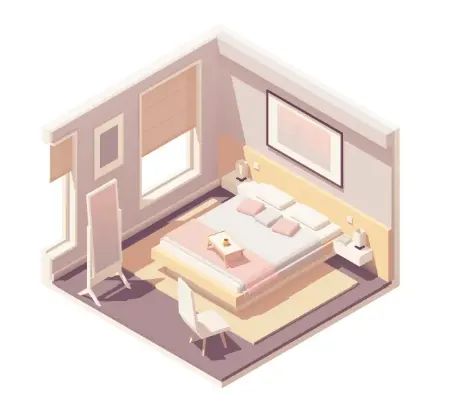 Small
Less than 8 ft. x 10 ft.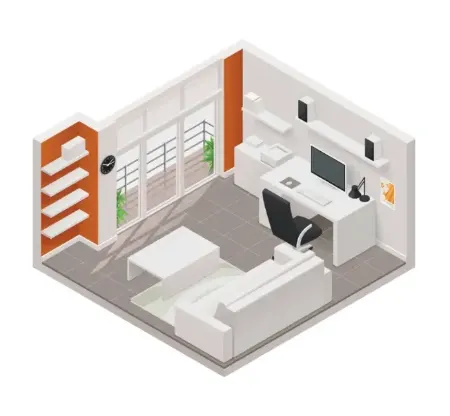 Medium
Up to 12 ft. x 14 ft.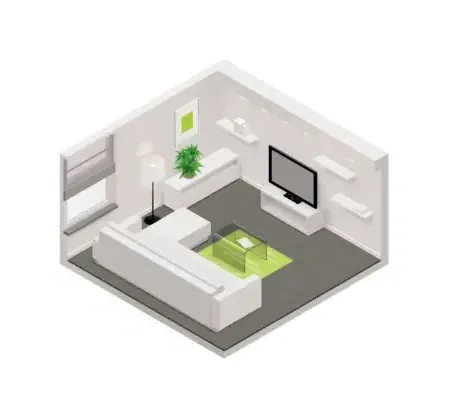 Large
Up to 18 ft. x 20 ft.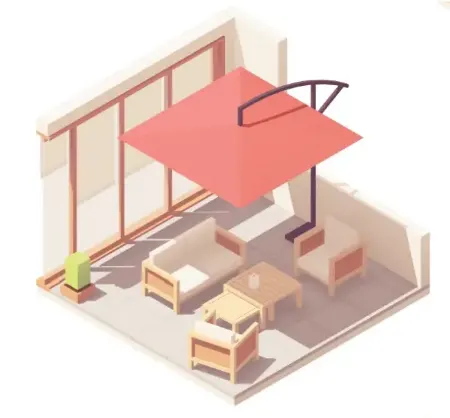 Patio
Up to 12 ft. x 18 ft.
Choosing the proper ceiling fan size for each room ensures both optimum airflow and maximum style. A large area with a ceiling fan that is too small may look like you took a financial shortcut and result in inadequate airflow. Alternately, a smaller space with a large fan can overwhelm the area both visually and with air circulation.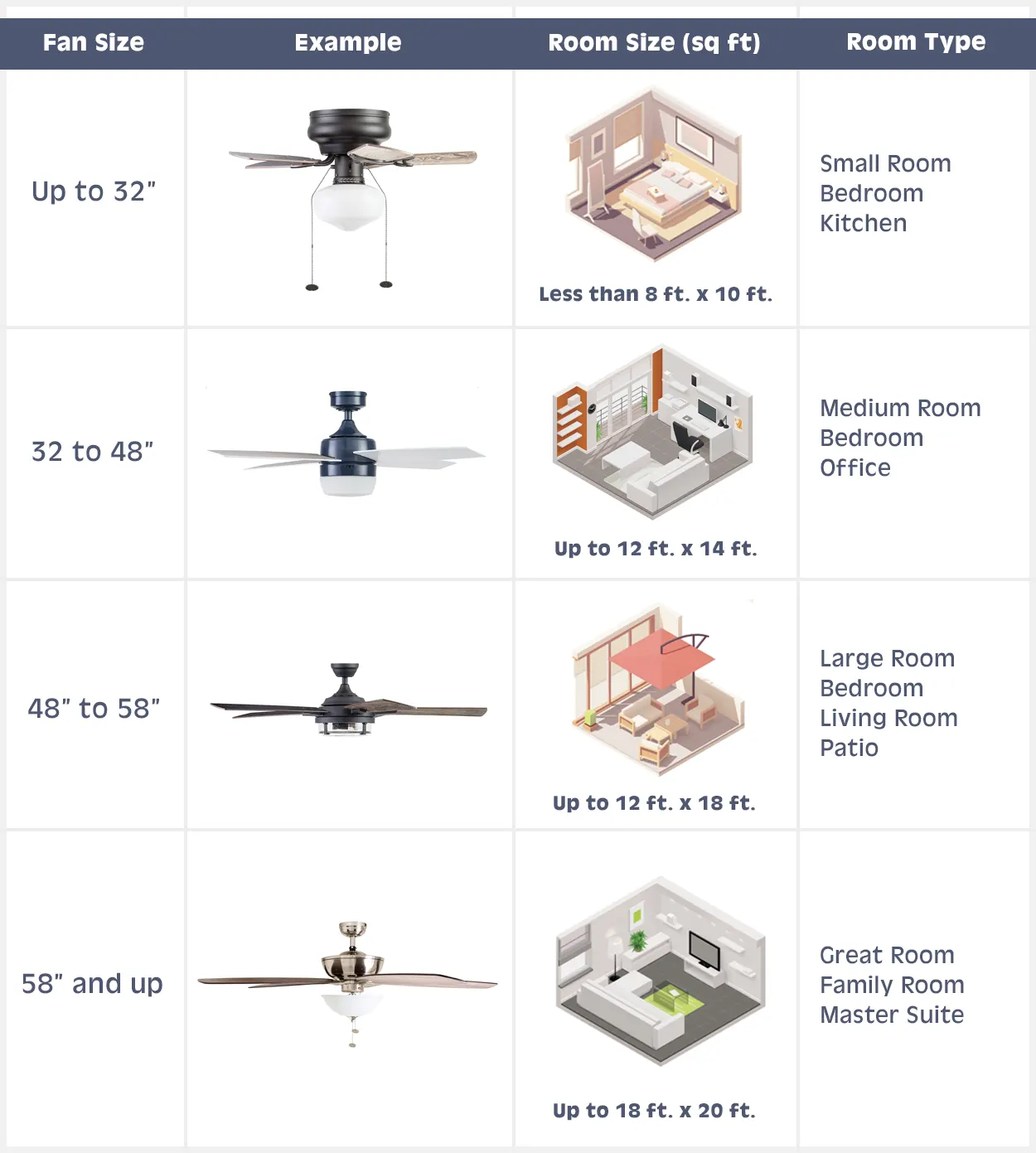 Measure the room to determine the size of ceiling fan that would work best in the area. You may have a wide range of sizes that will work for the room. Some great rooms or oversized spaces may benefit from multiple fans, which will create an eye-catching visual and provide adequate airflow. Ensure blade tips will be at least 30 inches from any wall or major obstruction. This will help reduce turbulence which is a major cause of fan wobble.
Ceiling fans come in a variety of sizes and are measured by their diameter, also referred to as blade span. Larger blade spans and/or number of blades do not necessarily create more airflow.
Keeping the fan proportionate to the space will ensure your home reaches its full potential for both aesthetics and efficiency!
Mounting Options

Do you have high, low, or sloped/vaulted ceilings? These factors should be taken into consideration when you are shopping for a ceiling fan and/or how the ceiling fan is mounted or attached to the ceiling.
Standard
Most contemporary ceilings are 9-10 feet tall. A standard downrod ceiling fan is built to flawlessly fit in this space straight out of the box. Rooms with higher ceilings can still have ceiling fans. In fact, they benefit greatly from being able to circulate the warmer air from those tall spaces.
For ceilings greater than 10 feet, fans may require a longer downrod. Prominence Home ceiling fans are compatible with any universal downrod that is ¾ inch inner diameter and 1-inch outer diameter.
Select a downrod length that will position fan blades between 7-9 feet from the floor. Proper blade height ensures optimal airflow and efficiency.

Angled
Sloped, vaulted or angled ceilings may require angle mounting. Using angle mounting on a vaulted ceiling with a steep slope can create the need for a longer downrod to allow sufficient clearance between the blade tips and the ceiling. In addition, an angled ceiling adapter may be necessary.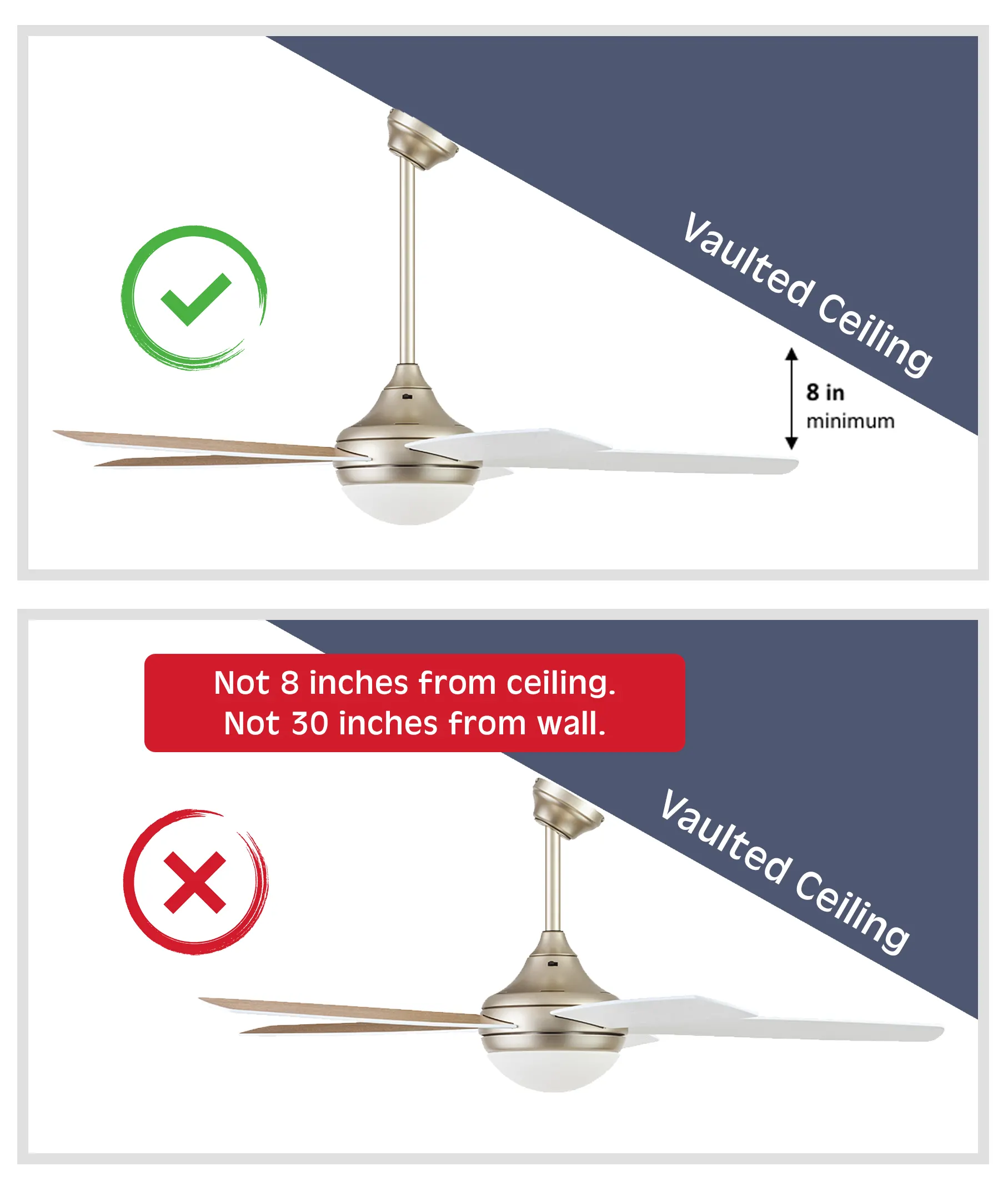 When angle mounting, ensure the blade tip is at least 8 inches from the ceiling and at least 30 inches from the wall. Adequate clearance not only keeps the blades from hitting the ceiling or wall but can also reduce or eliminate significant wobbling due to turbulence.
Closemount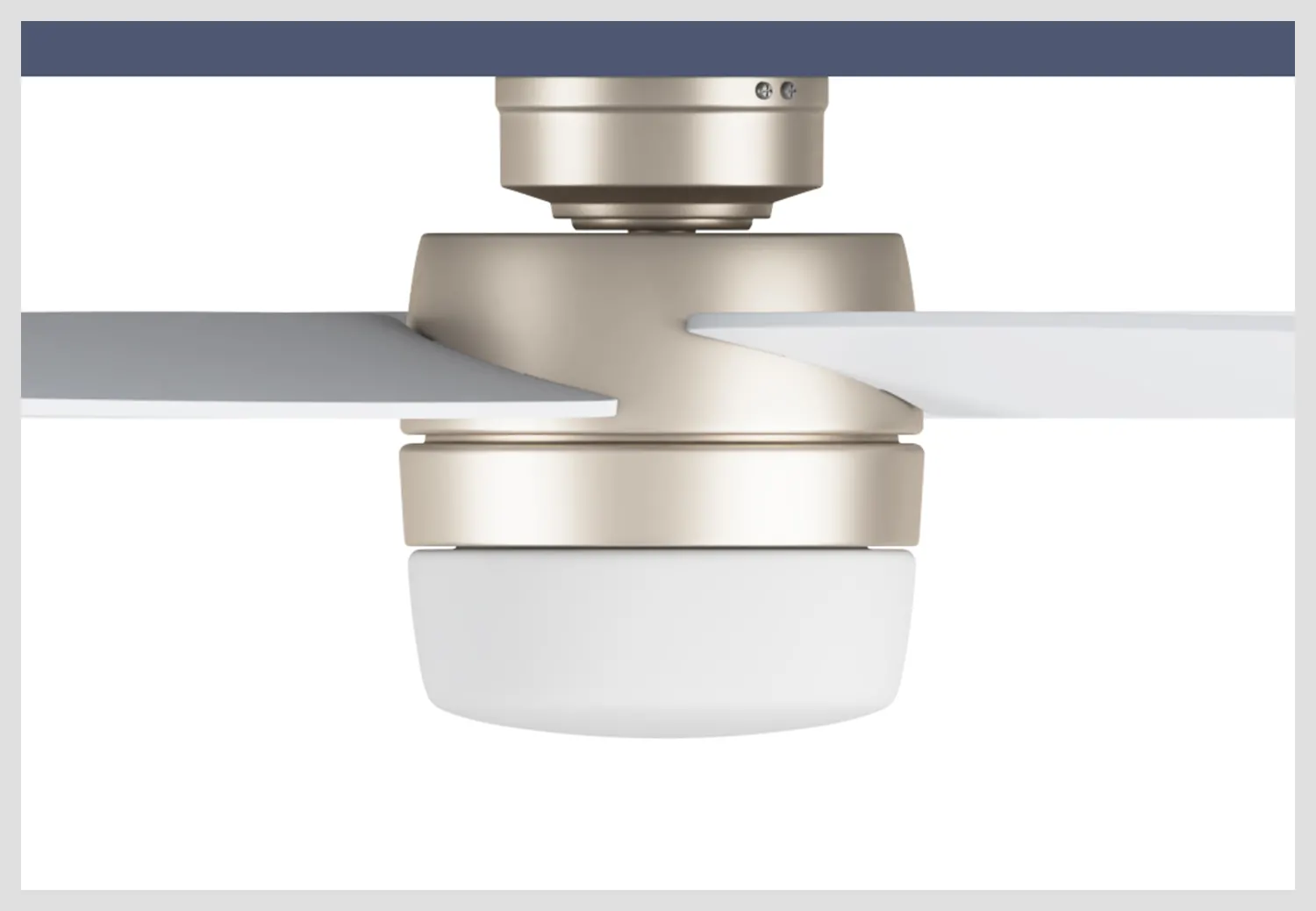 Some downrod fans allow for installation on ceilings 8-feet in height by utilizing a closemount installation. Close mount allows the user to mount the fan without the downrod to increase the fan's distance from the floor.
While closemount can increase the distance from the floor by 3.5 inches or more, it comes at the expense of some airflow. If your ceiling is high enough to allow for standard mount, this will ensure maximum airflow.
Low profile | Flushmount | Hugger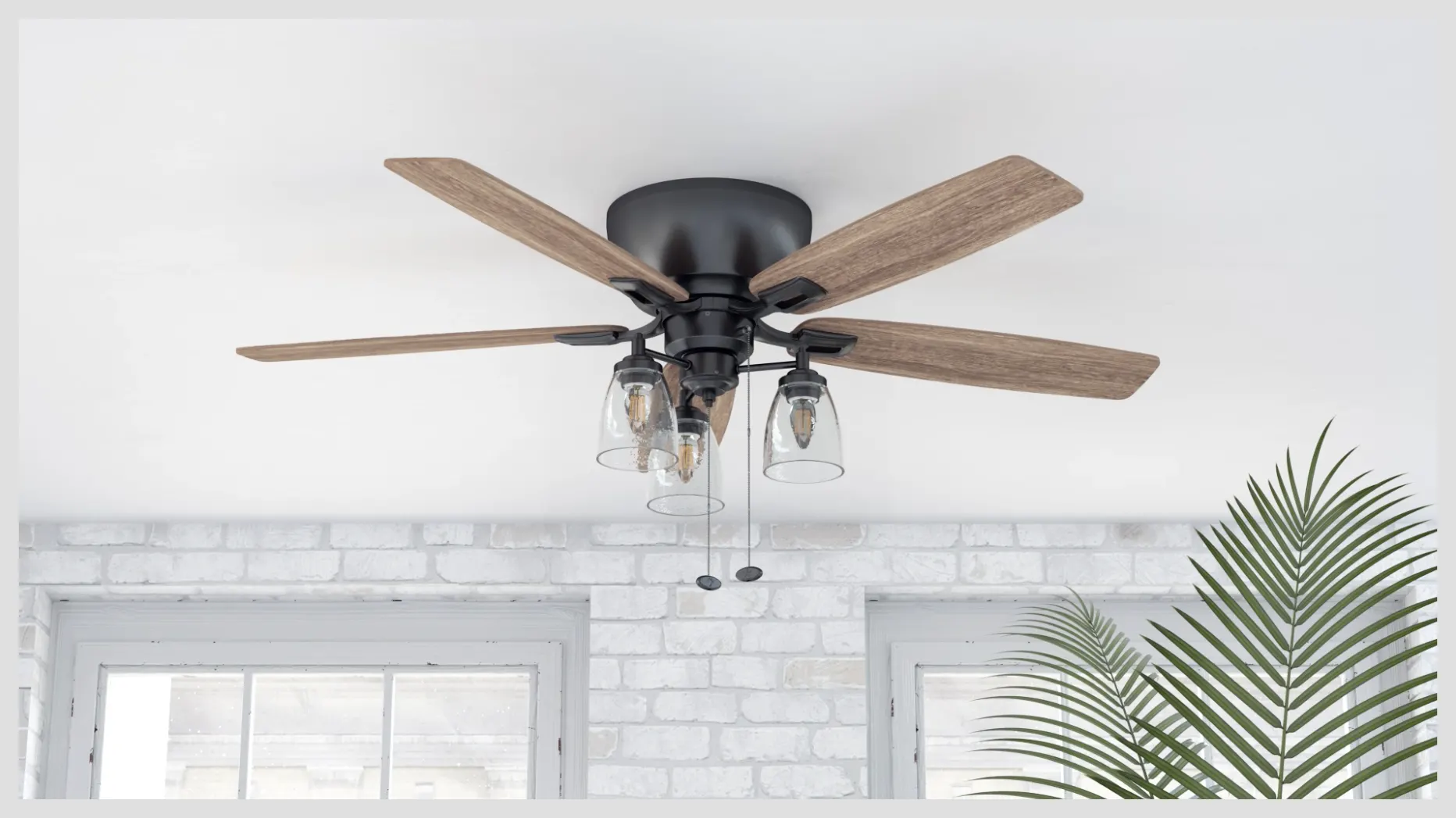 Hugger-style or flushmount fans are not technically a mounting option, rather this type of fan is specifically designed for lower ceilings. Consider this type of fan for a ceiling that is 9-feet or lower to ensure blades are between 7-9 feet from the floor.
These low-profile ceiling fans are designed with compact bodies and mount flush to the ceiling, so the blades hang at a safe distance. They are NOT appropriate for angled ceilings.
Knowing the height and pitch of your ceiling will help you determine the best fan or mounting option for your space. Will a standard, angle, or closemount option function best in your space? Or will you choose a hugger-style fan?
Features
Ceiling fans offer a wide variety of fun features. Familiarize yourself with the features below to decide which ones are most important for your new ceiling fan.

Whether you prefer to have as many layers of lighting as possible or no overhead lighting, there are ceiling fan options for you.
Some people like the comfort of a ceiling fan but don't like the bulk of the added light kit. If sleek and simplistic is your desire we have a selection of no-light ceiling fans as well as integrated light ceiling fans from which to choose. Many ceiling fans can also be installed without the light kit.
Many people prefer a ceiling fan with lights for the added comfort and illumination. Prominence Home ceiling fans offer a vast array of styles and levels of brightness. From unique, powerful LED ring lights to vintage-style Edison bulbs, there is a ceiling fan perfect for whatever your lighting needs.
Controls
Choosing a control system that is convenient and fits your lifestyle is key when it comes to ceiling fans.
Pull Chains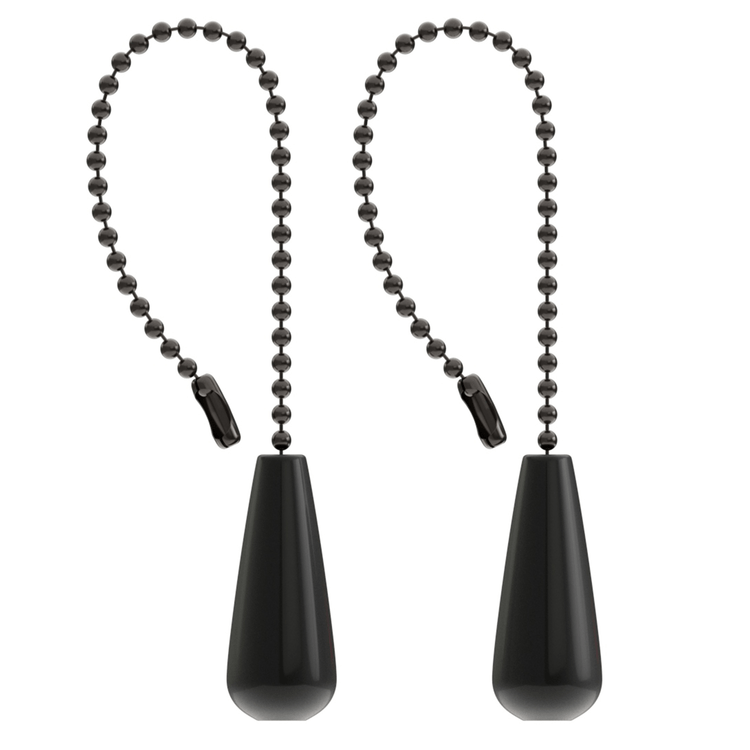 Most people grew up with a basic ceiling fan that turns the fan functions off and on utilizing a wall switch and then adjusts the motor speed and lighting using pull chains.
For those who have used this type of fan their whole life, they will gravitate towards pull chain controlled ceiling fans due to simplicity and familiarity.
Remote Controls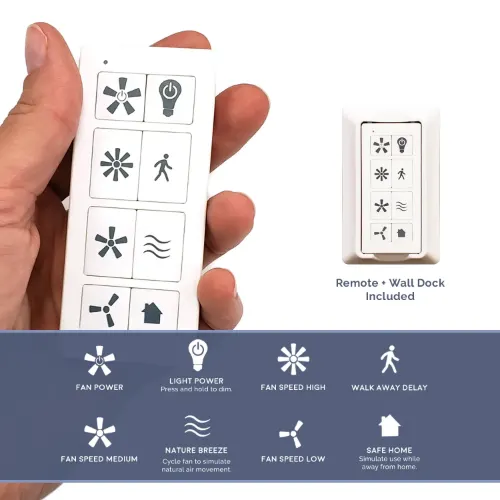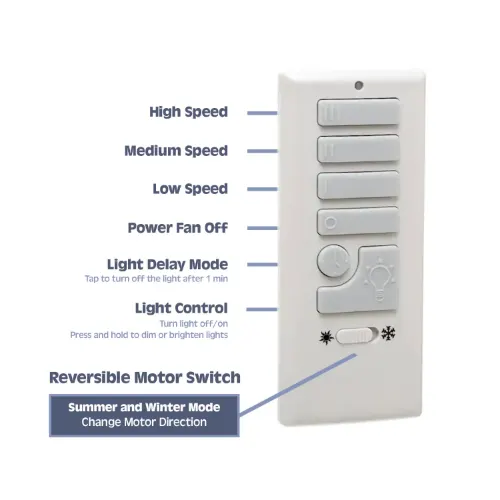 Prominence Home's advanced ceiling fans have all the comfort of the pull chain ceiling fan but with the added convenience of a remote control. Control the power, the 3 speed settings and the light from the convenience of an easy to use remote (*batteries are included with remotes).
Remotes are typically handheld, but often include a wall mount to store the remote when not in use.
Smart Fans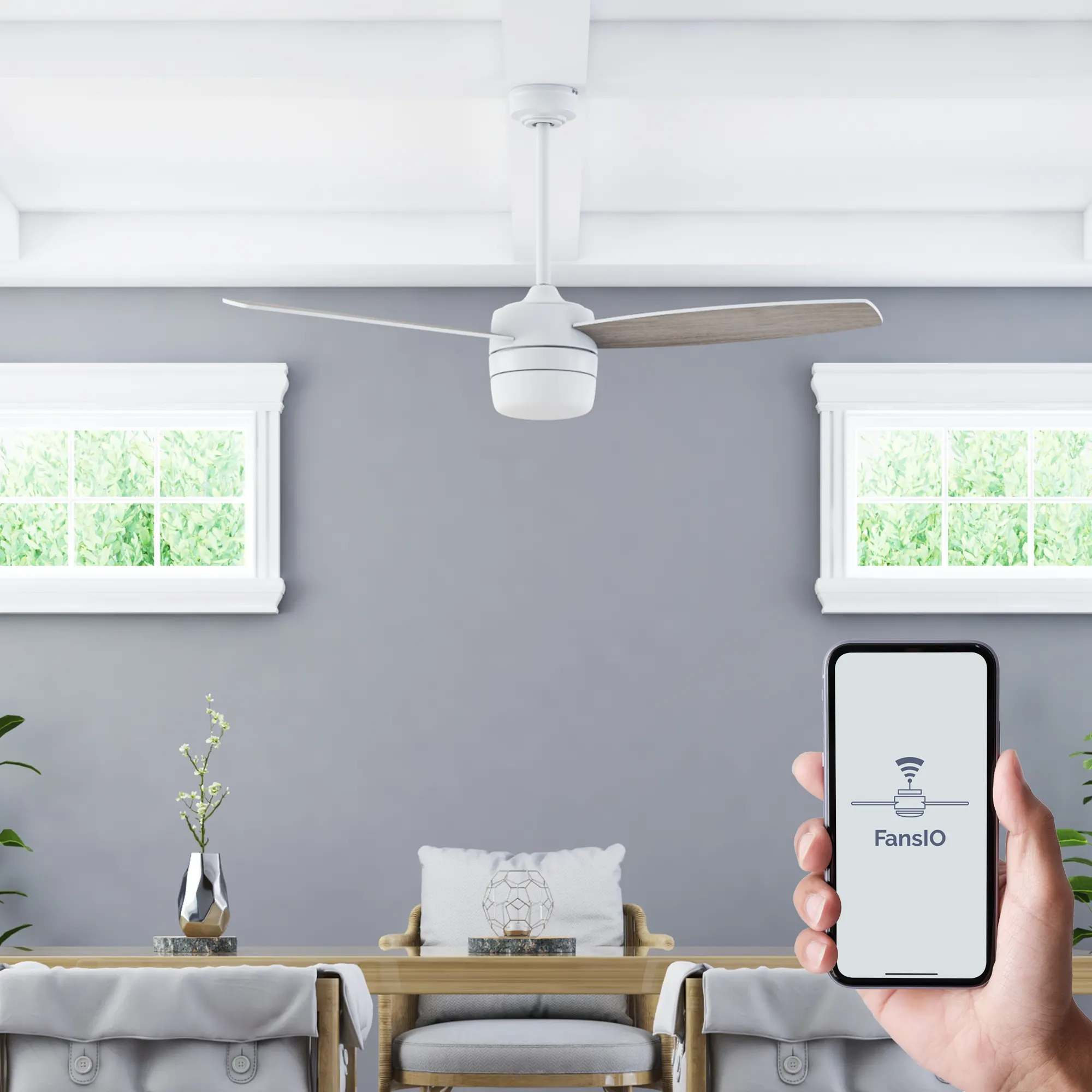 Smart fans are the newest innovation in ceiling fans. The Prominence Home Smart Fan Collection powered by FansIO combines state-of-the-art technology with luxurious comfort and style!
This line of smart fans also works with home automation applications such as Amazon Alexa and Google Assistant giving you the option to use your voice to control the fan functions.
Additionally, the unit can be controlled via the included FansIO smart ceiling fan remote as well as the FansIO app which is downloadable at the App Store and Google Play. Being smart has never been so cool!
Airflow
Ceiling fans do not actually cool the air - they create air circulation. This air movement can make your space feel up to 10 degrees cooler in the summer.
During the cooler months, adjust your ceiling fan to run clockwise on the lowest speed setting to push down the warm air from above and recirculate it keeping your house warmer. Every fan includes a reverse switch to control the direction of blade rotation.
CFM (cubic feet per minute) measures the amount of air moved by a ceiling fan. The higher the CFM, the more air the fan will move. Checking the Energy Guide will give you an idea of the average airflow.
Many factors contribute to the CFM:
Motor size
Motor speed
Blade shape
Blade arm pitch
Distance from blades to ceiling
Number of blades
Bonus Features
Prominence Home has many features that are automatically included with all of our fans right out of the box!
3 speed motor- All of our fans have 3 adjustable speed settings giving you the power to customize your comfort!
Quiet, Reversible motor- All of our fans let you adjust the motor rotation for year around comfort.- Counter-clockwise to cool in the summer and clockwise (on low speed) to circulate warm air in the winter.
Limited Lifetime Warranty- A limited lifetime warranty is offered on this product by the manufacturer- check the warranty section for more details!
Universal downrod compatibility for non flushmounted fans
Easy to follow installation and troubleshooting guide
Award winning customer support
Most fans have dual-finish reversible blades allowing for two style options
Style + Motor Finish
Many would argue that the most important aspect of the ceiling fan is it's style and they know exactly what style they want!!! And to those people we say...Let me help you! Click here to shop by style!
But these days style is fluid, ever-changing, and up for interpretation. Here are our styles in no particular order:
Farmhouse
Classic farmhouse style has been growing in popularity every year and luckily there seems to be no end in sight! With a focus on comfort this trend balances the old and the new for a space that is cozy and full of character.
Vintage accessories, reclaimed wood, and layers of beautiful textures give this style it's welcoming charm. Farmhouse ceiling fans can add the perfect topping to the beautiful layers of farmhouse style. It's no wonder that off-shoots of farmhouse are popping up regularly- rustic farmhouse, modern farmhouse, Scandinavian farmhouse… the list goes on and on.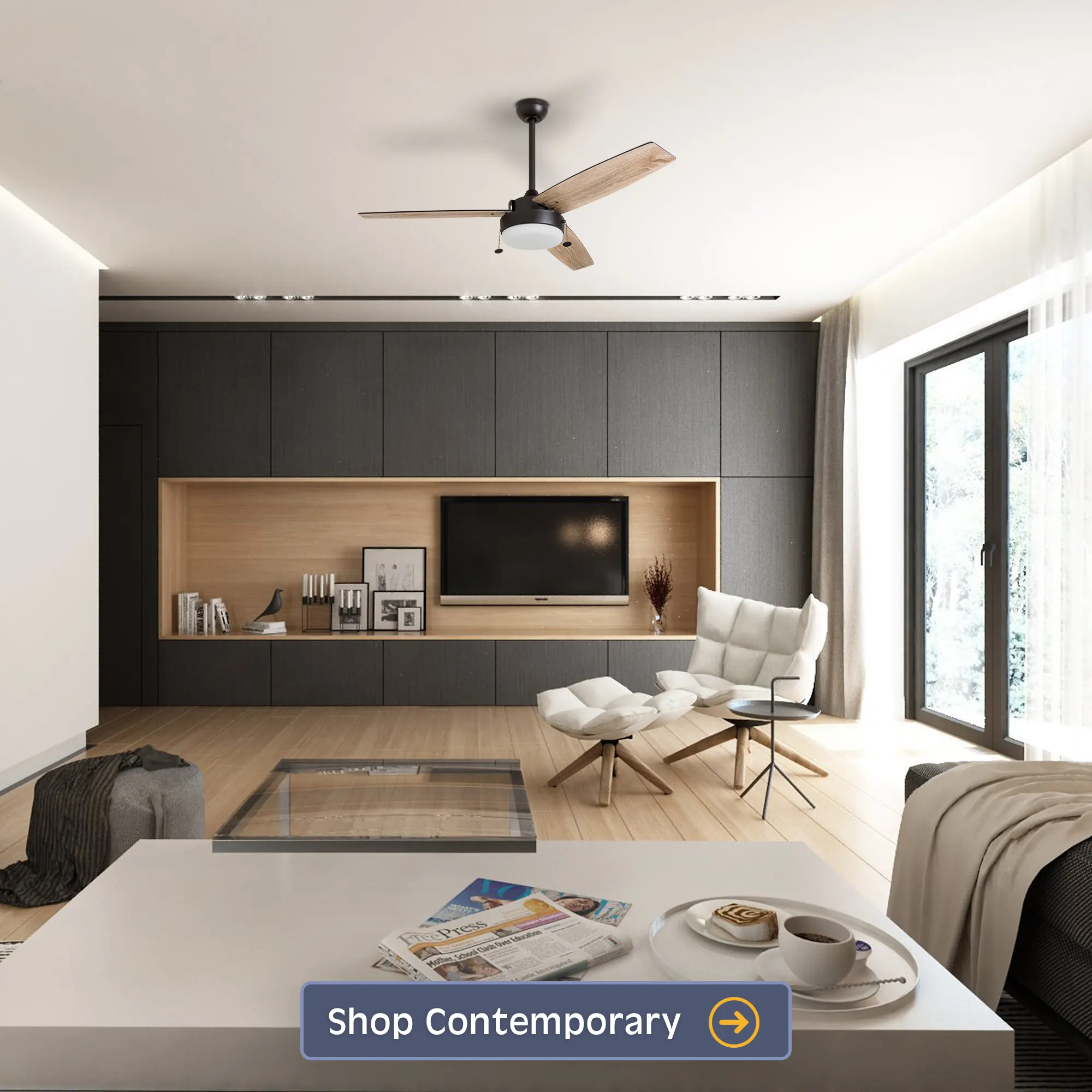 Contemporary
If subtle sophistication, simplicity, structure and open space speak to you, there is a good chance you lean towards contemporary style. This trend focuses on smooth, clean lines, open space, and geometric shapes as well as combining basic neutrals with bold pops of color.
The contemporary ceiling fan is sleek and stylish but never overstated and adds the perfect ambiance to your space. This style is never cluttered or fussy but always well thought out.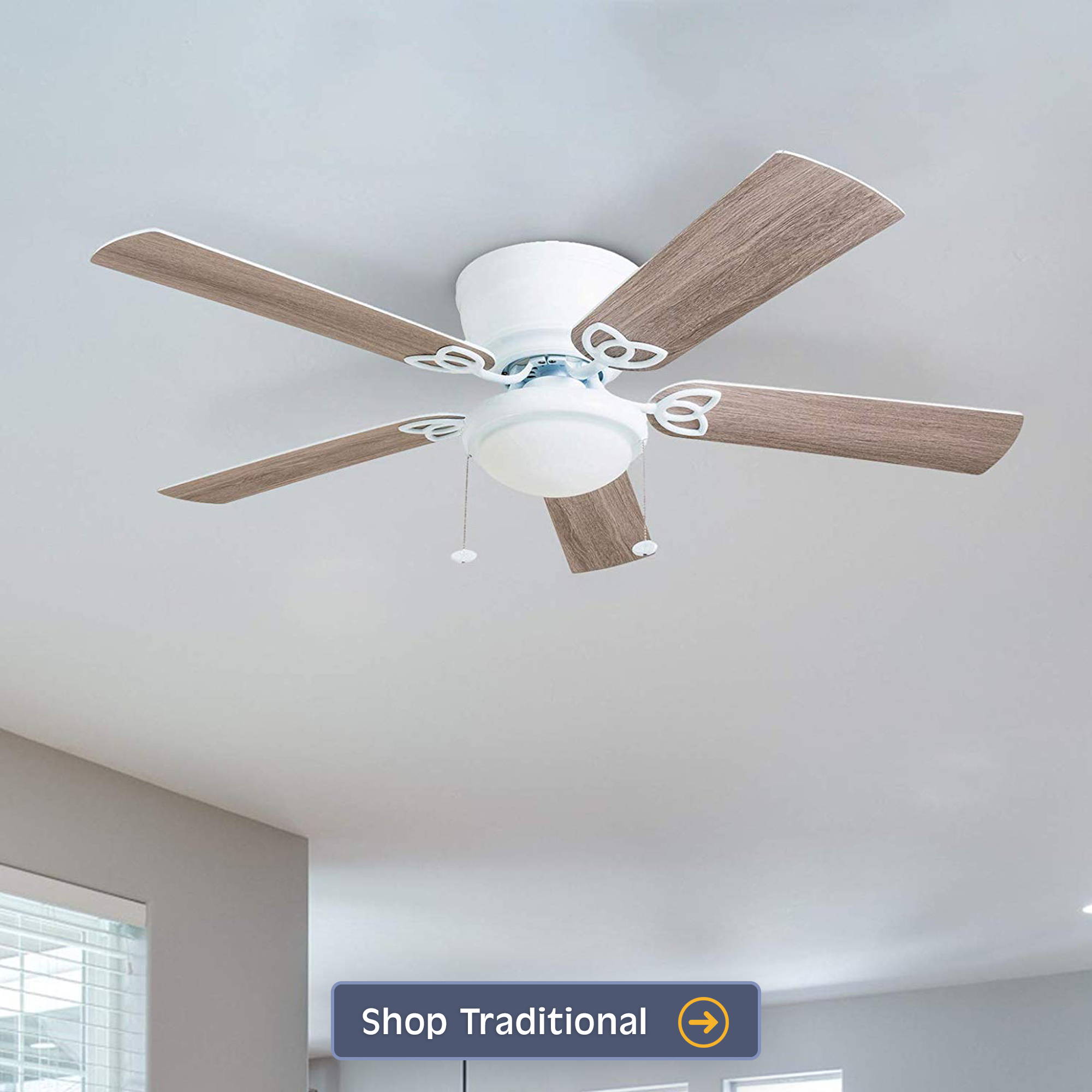 Traditional
Traditional design is all about the extra details. Nothing about it is minimalist. It focuses on curved lines, elegant touches, and matching pieces. Dark woods, rich tones, and decorative details truly embody this style.
The traditional ceiling fan sports a classic design with extra flair at the blade arms. The dark-wood tone blade arms would be a perfect accent to pieces of furniture in this matching, thoughtful space. Comfort has never looked so classy!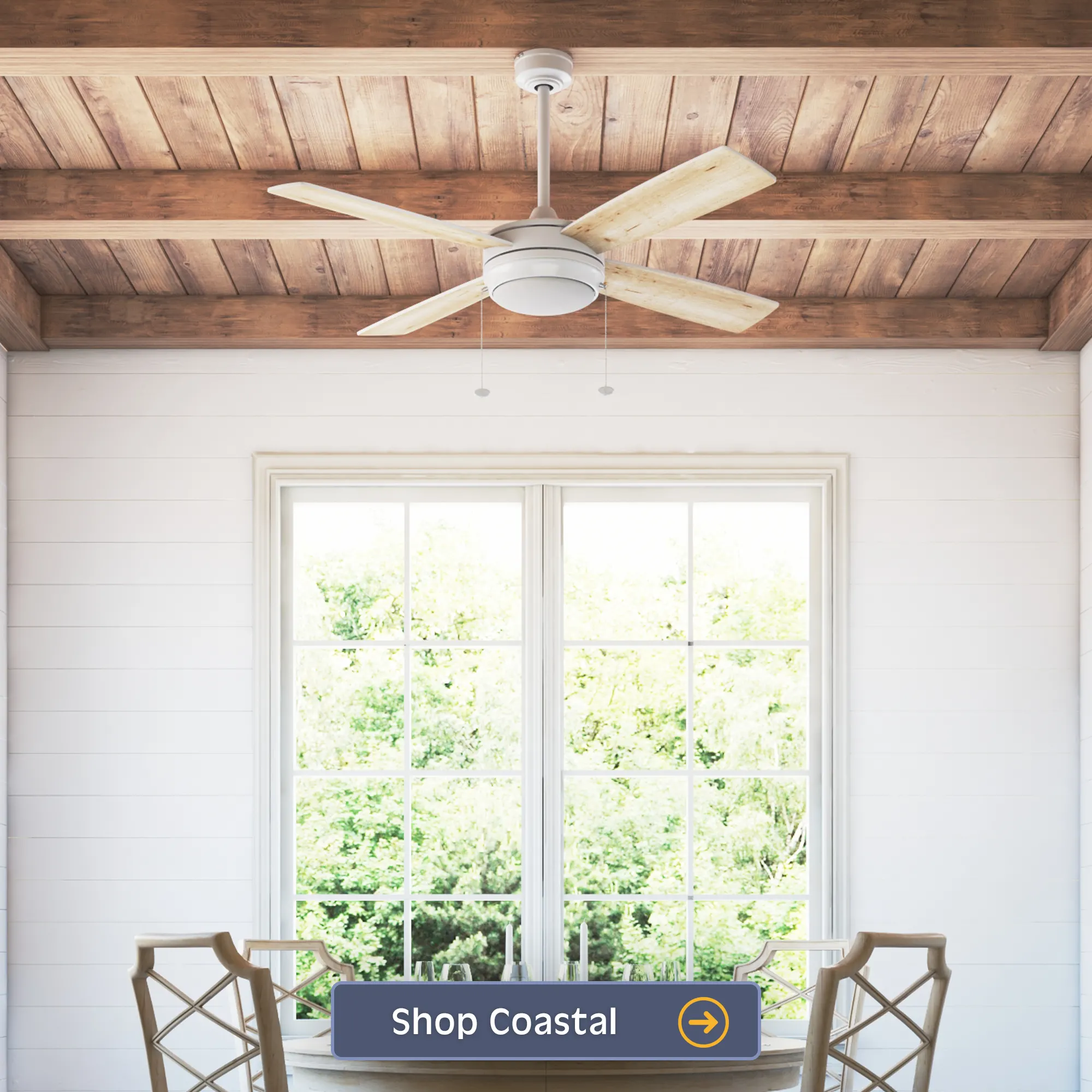 Coastal
Light tones, clean aesthetic, and an airy atmosphere should have you visualizing a seaside cottage. Those longing for a tropical vacation can always have a tropical stay-cation at home in a nautical themed room.
The coastal ceiling fan is meant to evoke the breeziness of the beach and most often are found in the colors of ocean hues - the white of the crashing waves and the blues of the deep, dark waters.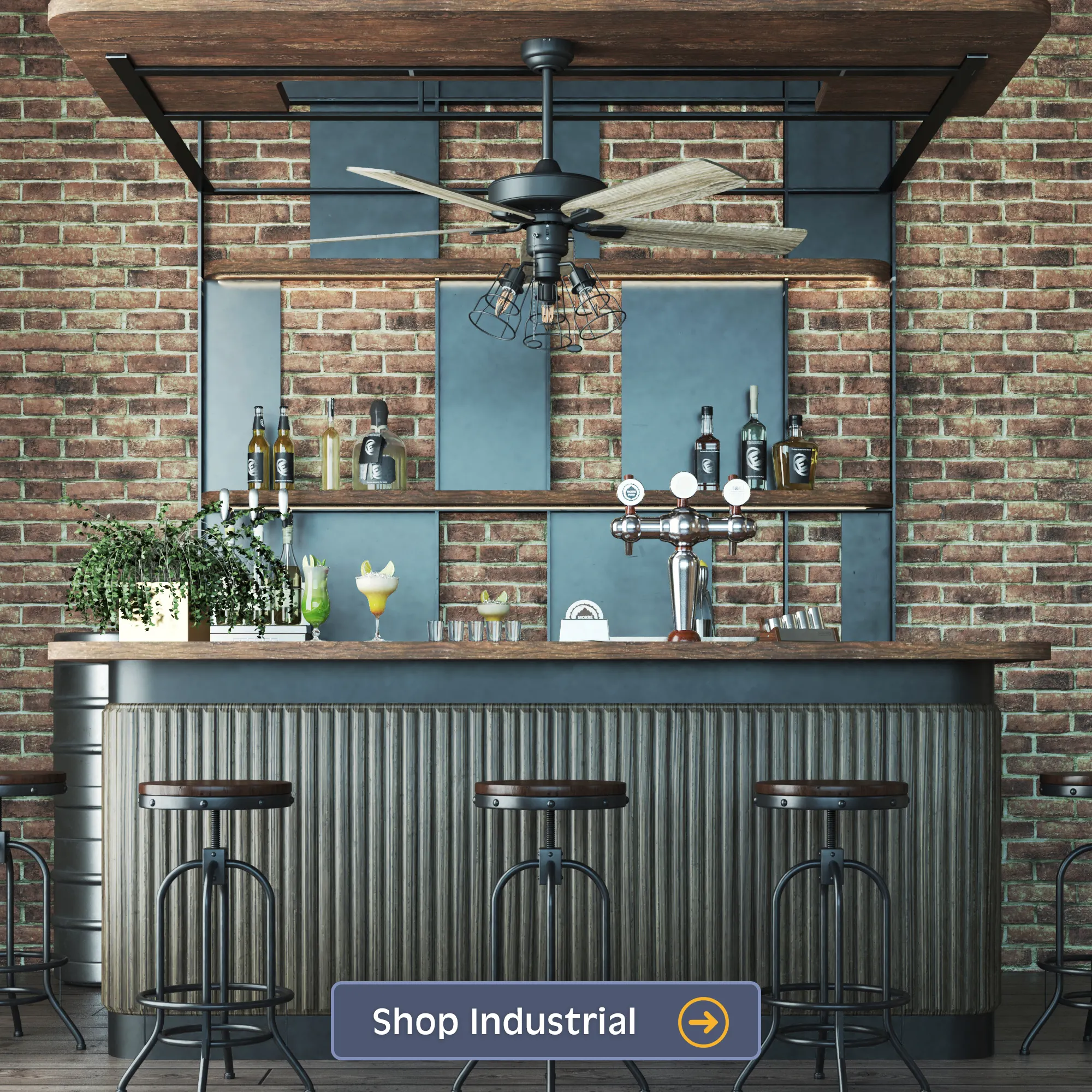 Industrial
Other Options - Finish
Still don't know what style suits you? So many choices and no idea what to pick? Your room is more transitional or eclectic? This is a good time to shop by finish.

Picking a finish color that you like and then adding in touches of that color in other decor items will make your space look cohesive and well-planned.

For example, a pewter ceiling fan would look great in a room with silver picture frames, drawer-pulls and cabinet knobs. Or a sapphire blue fan would look amazing in a neutral living room with matching blue throw pillows and touches of blue in the area rug.



Price
While selecting the ideal fan for your home, you have to take price into consideration. Prominence Home has fans for every room and every budget. While price alone should not be the only factor, we know it to be a significant one.
If budget is a large concern, taking the time to find out what features are most important to you and taking a careful look at the options available can help you find the perfect Prominence Home ceiling fan to fit your needs.
Benefits
Finding the perfect ceiling fan starts with knowing what matters most to you and your home. However, maybe you are still on the fence about whether or not to install ceiling fans, or perhaps you're curious about which rooms truly benefit from having a ceiling fan.
Other than increasing comfort, there are many added perks to installing a ceiling fan. Consider these main advantages:
Save on energy bills
As mentioned previously, when used properly ceiling fans create air circulation making your space potentially feel 10 degrees cooler. As a result, you can set the temperature a little higher during the summer while still maintaining a comfortable temperature in your home.
Ceiling fans do not only help you save money on your energy costs during the summer, either. Many homeowners find that ceiling fans can help with energy costs during the winter, too.
If you change the direction of your fan's blade rotation to clockwise at a lower rate of speed than you usually use during the summer months, you can push warmer air down from the ceiling, keep warm air flowing through your room, and make it feel warmer even during the coldest months.
In some regions of the country the heat/air can be turned off during spring and fall and comfort levels can be controlled simply by adjusting your ceiling fan.
Individual comfort zones
Many households have people with dramatically different temperature preferences. You may quickly find yourselves battling over control of the thermostat, especially as the seasons change or the temperature drops at night. A ceiling fan can help solve some of those challenges.
Instead of having to change the temperature throughout the entire house, which could freeze out the family member who prefers warmer temperatures, you can simply turn on the ceiling fan. It will help cool the temperature in a single room, not the whole house--and as a result, everyone may feel more comfortable.
A ceiling fan is also easy to adjust based on your current needs and preferences. For example, if you're exercising in the middle of the living room, you might prefer a cool breeze; but if you've turned off the workout video and settled down with a good book, you might no longer want that extra cooling drop in the room.
By turning your ceiling fan on and off or adjusting its speed, you can more easily keep your room at the perfect temperature no matter how your needs change.
Circulates air to dissipate odors
Ceiling fans are not just effective for maintaining the ideal climate in your room, they can also help remove unpleasant smells. When installed in areas where bad smells are most likely to lurk, a ceiling fan can be an incredible asset.
In kitchens and dining rooms, ceiling fans can help pull away smoke, rid the smell of fried foods, and remove other unwanted common kitchen smells. Homes with smokers may find a ceiling fan invaluable.
Areas that are known for being smelly and damp such as laundry rooms, bathrooms and basements can all truly benefit from a ceiling fan.
Improve outdoor living areas
Offering a safer way to socially distance and a great way to make the most of your existing space, many people have built or improved on their outdoor living area over the past year.
When you install a ceiling fan, you may extend the time you are able to use your exterior space by keeping your family and guests comfortable.
---
Knowing the basics on how to choose the right ceiling fan for your space can eliminate the headache and guesswork of searching for the right fan and the heartache of choosing the wrong fan.
Having the perfect fixture makes a huge impact on the style, illumination and comfort of your space. At Prominence Home, we know that a ceiling fan is more than just a fan; it is an expression of you.
Every room in your house tells a story as special as the moments happening within it. We want to help you capture it.