Description
Sleek and modern, the Talib is a matte black ceiling fan that fits into a modern great room as effortlessly as it does in an open-air outdoor space. With a hearty tolerance for extreme weather and long blades, install this versatile fan indoors or out for an instant cooling effect.


MODERN DESIGN: This 3-blade modern ceiling fan offers sleek elements in a matte black finish, all of which fit perfectly in indoor and outdoor spaces (over 360 square feet).


OUTDOOR CEILING FAN, WET RATED: This wet rated outdoor ceiling fan was designed for durability. Mount this fan indoors or outside to cool any space, knowing that it pairs well in both environments.


EASY INSTALL: Have your fan mounted and cooling in under an hour with our simple installation guide. This will be a breeze.


3 BLADES: The blade design embodies a progressive pitch that has simple and elegant taste, backed by power to get the job done.


GREAT FOR EXTRA LARGE SPACES: With the 56-inch blade span, this fan is great at cooling large and extra-large areas over 360 square feet.


PULL CHAINS FOR EASY ON/OFF: Easily control your fan with the built-in pull chains (included).


ALL SEASON MOTOR: Every Prominence Home fan comes with our signature 3 speed, reversible motor. This awesome feature allows the fan to work in any season: providing a cooling effect in the summer, or when reversed, spreading warmth in the winter.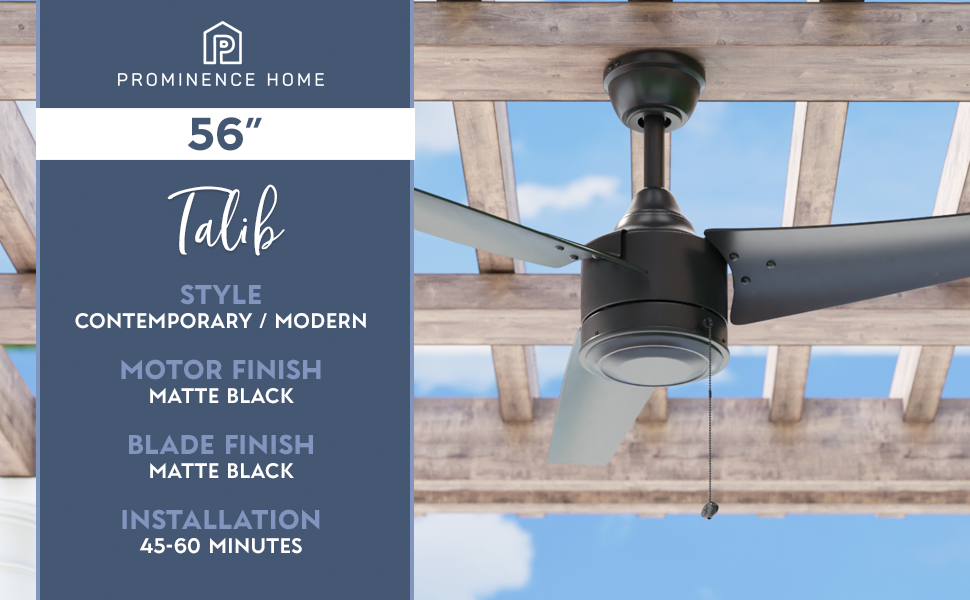 Read the latest from our Blog