Description
The Magonia is an industrial farmhouse ceiling fan on a traditional frame. This flush mount ceiling fan with light was crafted for both style and comfort but also designed to make installation a breeze.
The fast attach blades snap into place in seconds; twist in the glass sconces as a final touch and voila - you have a classic, traditional ceiling fan mounted and cooling your room in no time at all!
CLASSIC & TRADITIONAL COTTAGE STYLE FOR LARGE ROOMS: With 5 fan blades and a 52" span, this flush mount ceiling fan will keep larger rooms cool, light, and airy (up to 360 square feet)


EASY INSTALL: Our unique installation eliminates all those unnecessary screws and makes attaching the blades as simple as 1-2-3.


FLUSH MOUNT & HIGH IMPACT: "Hugging" the ceiling, this flush mount ceiling fan means more space underneath for furniture, activities, and whatever else makes your house feel like a home.


TRI-LEVEL ADJUSTABLE LIGHT: Choose your lighting brightness: set the mood for a romantic dinner or host a home-schooling session...with 3 levels of varying brightness you'll have lighting for any occasion.


INDOOR USE: Install this fan in an indoor room to protect its natural beauty and style for years to come.


5 REVERSIBLE BLADES: 5 reversible and powerful blades offer two distinct shades of oak: gray oak and French oak. The fan body is finished in a complimentary brushed nickel.


PULL CHAINS FOR EASY ON/OFF: Easily control your fan with the built-in pull chains (included).


ALL SEASON MOTOR: Every Prominence Home fan comes with our signature 3 speed, reversible motor. This awesome feature allows the fan to work in any season: providing a cooling effect in the summer, or when reversed, spreading warmth in the winter.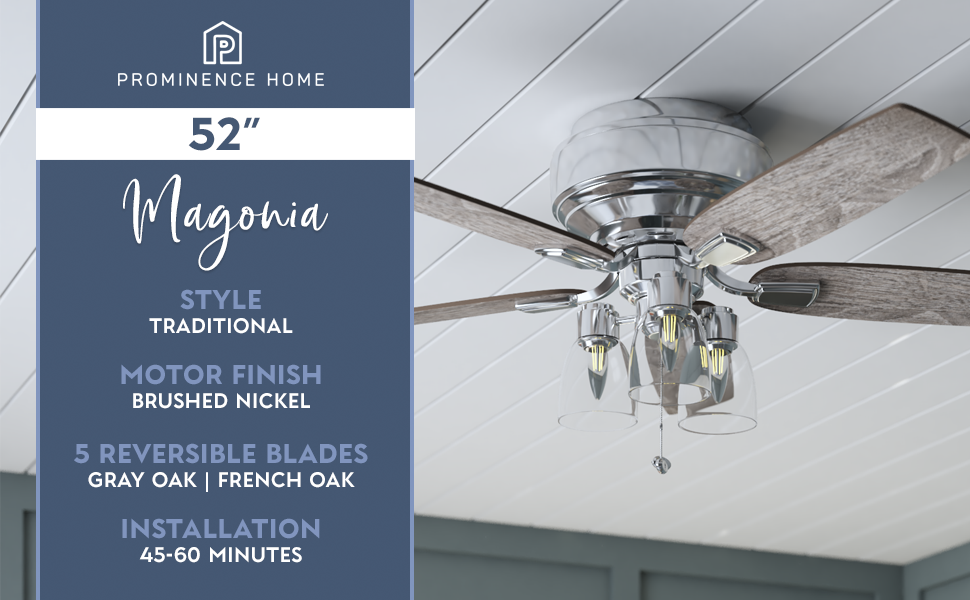 Read the latest from our Blog