Blogs
7 Fun Ways to Incorporate Green into your Home
St. Patrick's Day is the greenest day of the year.
But green should be celebrated the other 364 days too!
Green clothes, green drinks, green.....wallpaper?
St. Patrick's Day is right around the corner, which means we have the perfect excuse to celebrate, entertain, and, of course, embrace one of our favorite colors: GREEN. However, we fully believe, and think you might agree, green needs to be celebrated all year long!
It is the most common color in the natural world, after all, and is known for its ability to help people relax in some instances and energize them in others. Green is the second most common favorite color (second only to blue) and it represents luck, money, growth and good health.
When trying to breathe new life into your home, incorporating more green features is an excellent way to do so. Check out these simple tips from design experts to tastefully add the color green to any space in your home.
1.Make the Most of Accessories
Sometimes changing the overall look and feel of a space is as easy as swapping out a few home accessories. If you're looking for a way to incorporate more green into your home, but are constrained on time or money, here are some convenient, affordable ways to do so in as little as one weekend without breaking the bank:


Accent Pillows:

Replacing the ordinary pillows on your sofa, bed, or patio furniture with vibrant green ones can instantly make your favorite places to hang out more stylish and inviting.

Throw Blankets:

Along with pillows, a new throw blanket in a gorgeous shade of green can add an understated, cozy vibe to any armchair, sectional, or bedspread.

Picture Frames:

To add a fresh spin in an otherwise neutral space, consider painting ordinary wooden picture frames your favorite shade of green. For an elegant finish, hunter green frames would pair beautifully with black and white photos, while a seafoam green would be ideal for a beach home or bathroom.

Tablecloths:

Shades of green work particularly well in kitchens. To give your kitchen or dining room a quick facelift, pair a green tablecloth or table runner with a vase of fresh flowers or simple white bowl positioned in the center of the table. The result will be crisp, clean, and contemporary.

Fruit:

Place bright green limes, dark avocados, or earthy pears in a glass bowl will spruce up your countertop or breakfast table in the blink of an eye


Instagram

📷

@samiskarpa
2.Painting the Walls
If you love the color green as much as we do, painting your walls a gorgeous shade of olive, pistachio, or forest can make a big statement in any room, no matter the size. To some, green may seem like a color that should be used exclusively in certain rooms, such as the bedrooms, and avoided in others, such as the living room, but this simply isn't true.
Something that makes green an ideal color choice for any home, regardless of its style or size, is its ability to seamlessly adapt and complement its surroundings. For this reason, a green color scheme would work as beautifully in your bathroom as it would in your office. Keep these tips in mind to help make the process simple if you do choose to cover your walls in green paint.
Stick with soft green hues for rooms that you want to feel tranquil and relaxing, such as your bedroom and bathroom.

To make a bold statement without overwhelming a room with leprechaun vibes, consider painting one wall a dramatic shade of green, such as hunter or emerald green.

Pairing green walls with a subtle

contrasting ceiling color

, such as pale orange or pink, is a surefire way to create a sophisticated atmosphere while keeping the space simple and clean.

Green is a gorgeous color choice for the exterior of your home, too, especially if you live in an area with plenty of trees. If you choose to paint all or part of your house green, such as your shutters, be sure to choose a shade with undertones that complement the surrounding area.


Painting the walls in your home green can feel like a big step, especially if your home is currently decorated in neutral tones. Fortunately, there are many shades and hues to choose from to fit your specific taste.
For instance, a light green paint could replace a traditional white wall, adding depth and personality without being too drastic. While a dark green can be dramatic and can make neutral furniture pop.
3. Dress Up Your Windows & Floors
When it's time to redesign a room or two in your home (and highlight green while you're at it), replacing the window treatments and area rugs is an easy solution. Swapping out dated drapes for modern curtain panels and boring rugs for fresh ones has a number of benefits, including:


Adding a Pop of Color:

Choose one shade of green that you want to prioritize in a space, then select curtains and a rug that use that color in an eye-catching way.

Bringing in Pattern & Texture:

Utilizing pattern and texture in a room is just as important as choosing the right shade of green. To keep the space visually intriguing without overwhelming it, be sure to choose curtains and area rugs with patterns and textures that pair well together. If your area rug has a bold print on it, it's best to select a more subtle option for window treatments, and vice versa.

Balancing Things Out:

Regardless of which room you're decorating, you always want to draw one's eye upward. With this in mind, be sure to choose window treatments that will make the room feels tall and bright. If the room feels small, hang your favorite green curtain panels a little higher above the windows to give the illusion of the room being bigger than it is.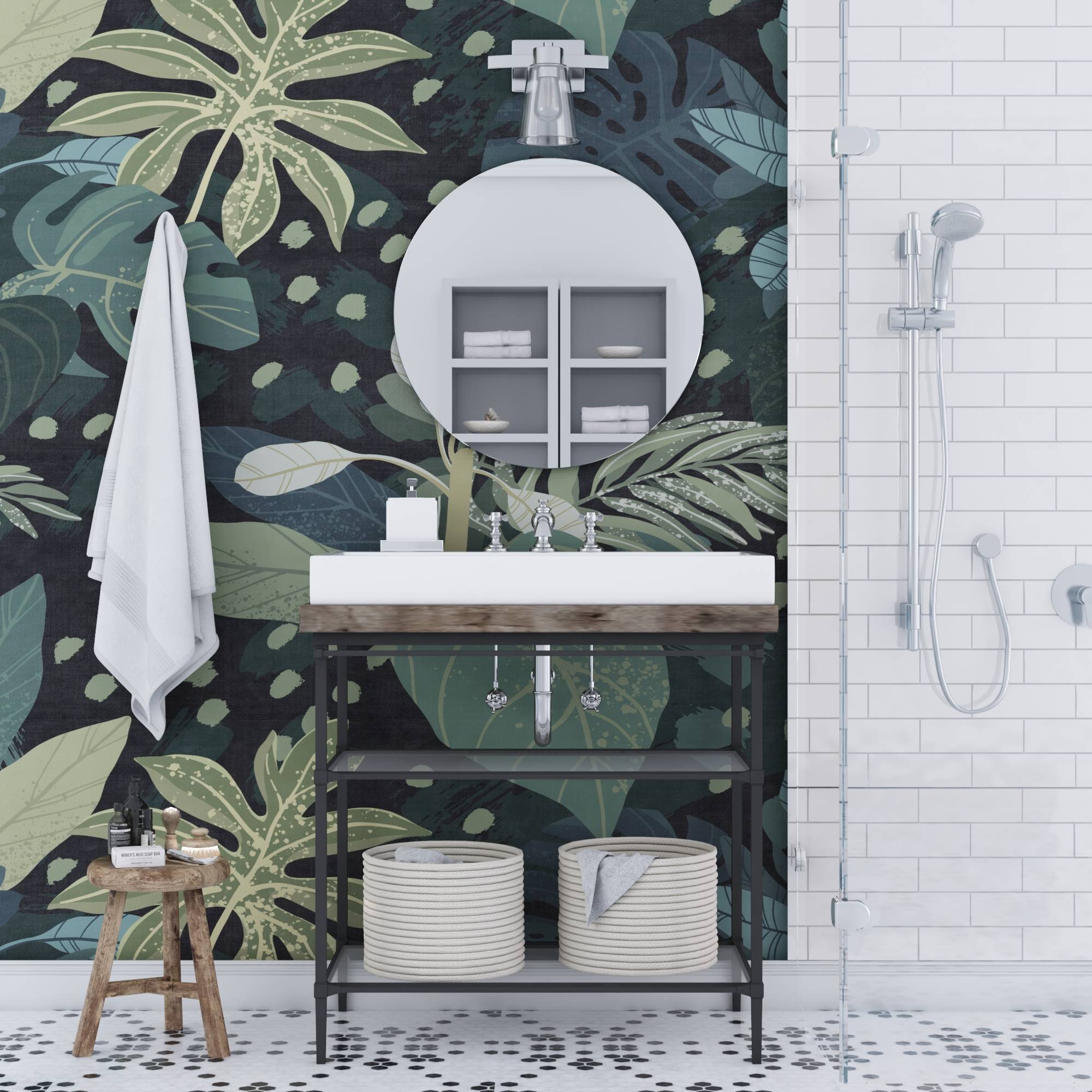 4. Don't Be Afraid of Wallpaper
If you think that wallpaper is drab or outdated, think again. Wallpaper has come a long way in the past decade and is more popular than ever. Why, you ask?
Not only can it be applied and taken down more easily than in the past, but it also comes in a variety of colors and patterns, making it a great option to decorate everything from baby nurseries and bathrooms to home offices and entryways. Check out these creative ways to use wallpaper in your home to make your green dreams a reality.


Ceiling:

You read that right. Wallpaper isn't just for your walls. To add a surprising element to a room, why not cover the ceiling in a fun green wallpaper? Going this route is a wonderful way to design a one-of-a-kind room and highlight a gorgeous light fixture or ceiling fan. However, it's important to pair the wallpaper on your ceiling with a light shade of paint for the walls to prevent the space from feeling closed in.

Back of Bookshelf:

Color blocking isn't the only way to highlight the color green on your bookshelf. Applying a playful green wallpaper on white bookshelves can create a modern look that feels thoughtful and edgy.

Accent Wall:

If your space could use some pattern, a

green wallpaper

accent wall may be just the feature you need. Since it will only be on one wall, don't be afraid to choose a bright shade of green, such as citrus, or a wallpaper with a bold print. No one decorates with wallpaper for its subtlety, after all.


5. Color Block Your Bookshelf
Organizing your bookshelves in a creative way is an easy way to add style and charm to any room in your house without much effort. It's also a wonderful way to emphasize specific items, such as family pictures, or even colors like green.
Coloring blocking your bookshelves may seem complicated, but it's really not. Here are some tips to help you prioritize your favorite green decorations on your bookcase like a professional interior designer.


Remove all the books and other items from your bookshelf, then separate them by color (greens in one pile, blues in another, and so on). Pro-tip: focus on organizing books by the color of their spine rather than their covers since you won't see the covers when they're stacked on the shelf.

Determine how you are going to organize the items. Perhaps, you could arrange all the green books by shade, starting with the dark ones and working your way toward lighter ones. Or maybe you like the natural effects of mixing different shades of green together sporadically.

To keep your bookshelf balanced, consider evenly dispersing green décor on it from top to bottom. For example, a teal vase at the top of the shelf and collection of small succulents in the middle of it could offset a stack of green books on the bottom.  

Remember, there's no wrong way to color block, so remember to do what feels right to you and have fun with it!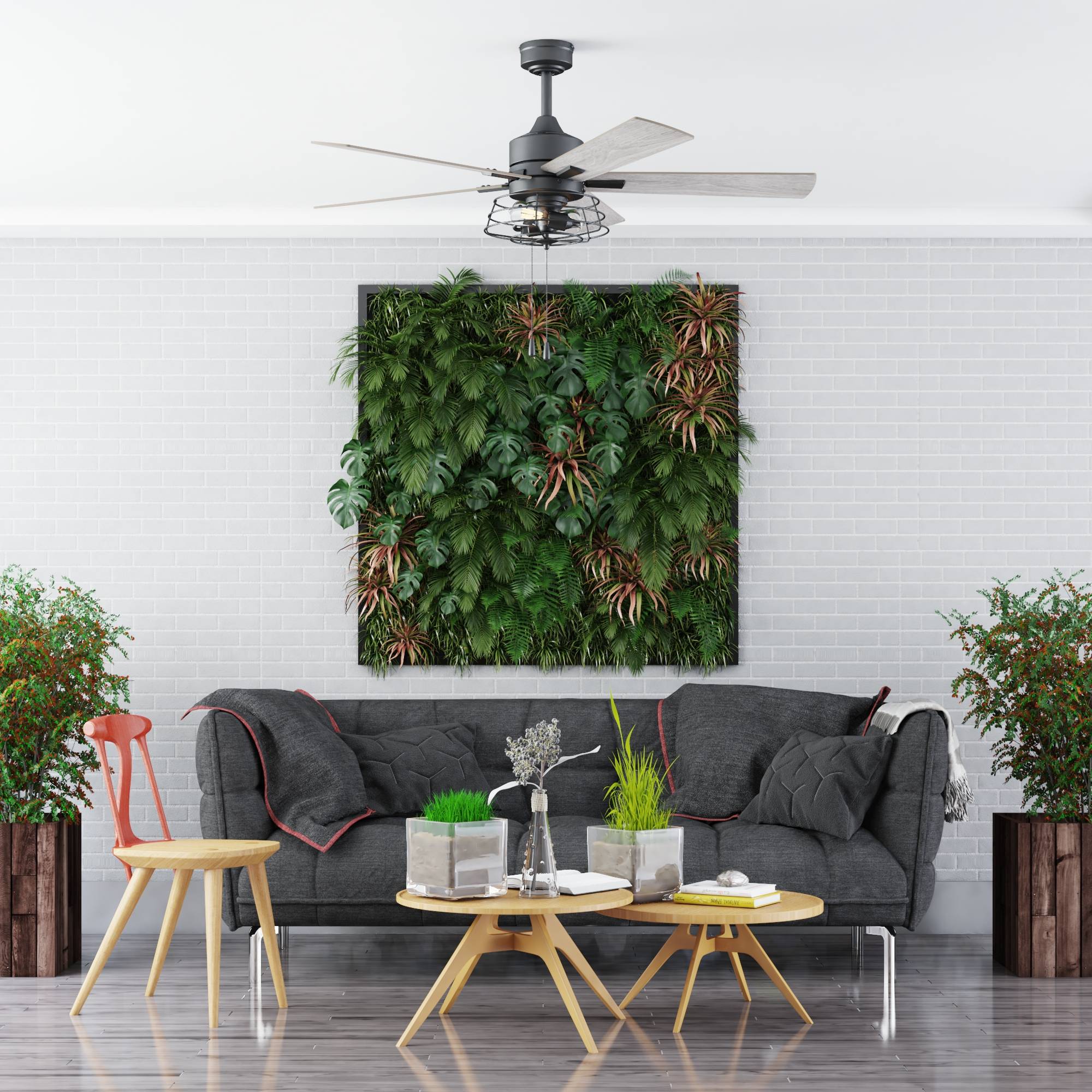 6.Bring the Outdoors In
Is there an easier or more effective way to incorporate the color green into your home than by investing in houseplants? We don't think so! Regardless of their shape, size, or even if they're real or artificial, potted plants can instantly transform the ambiance of your house.
Along with bringing in texture and beautiful shades of green that can only be achieved in nature, plants can help keep the air in your home clean while reducing stress and boosting your mood. No wonder people of all ages love them so much.
Not sure which plant would be best to add to your living space? Here are some of our favorites:


Peace lily:

Because they release oxygen at night and need little natural light, this is the perfect plant to add a deep green color to your bedroom.

Snake Plant:

These stylish plants with pointy green leaves that resemble a snake's skin are easy to care for, making them a great option for new gardeners.

Succulent

:

These plants may be petite, but they can have a big impact on the overall look of your home. Arrange a few of varying sizes on your coffee table to bring in a contemporary touch to your family room.

Boston Fern:

To add drama and greenery to your home, while keeping the air purified, this plant should be your go-to. Just be sure it has plenty of natural light to stay looking fresh for years to come.

Aloe Vera:

If you're known for killing every plant you've ever owned, this one's for you. Its spiky green leaves would look great on a bathroom shelf, in your kitchen window, or even on your back porch.

7. Green Furniture
We know green furniture may sound a little "out there," but hear us out. Whether you're striving to embrace coastal contemporary, modern farmhouse, or the new traditional look, the right options of green furniture can add warmth and charm to virtually any area of your home, such as:


Sofas and Sectionals:

For living areas with neutral walls, green seating areas can effortlessly add color that will make everyone who comes in your home immediately exhale when they have a seat.

Chairs:

For a rustic or casual vibe, green metal chairs are the perfect complement to any farmhouse table. Choose a seafoam or mint color to keep your eating space light and airy or a darker shade, such as army green, for a more dramatic effect.

Tables:

Repainting vintage furniture is a simple way to upscale pieces that would otherwise be thrown away, save a few bucks, and, of course, make your home more interesting. To breathe new life into your old furniture, consider painting your coffee table a rich forest green, your desk a stately pine, or a pistachio side table. The result is sure to be unique and playful.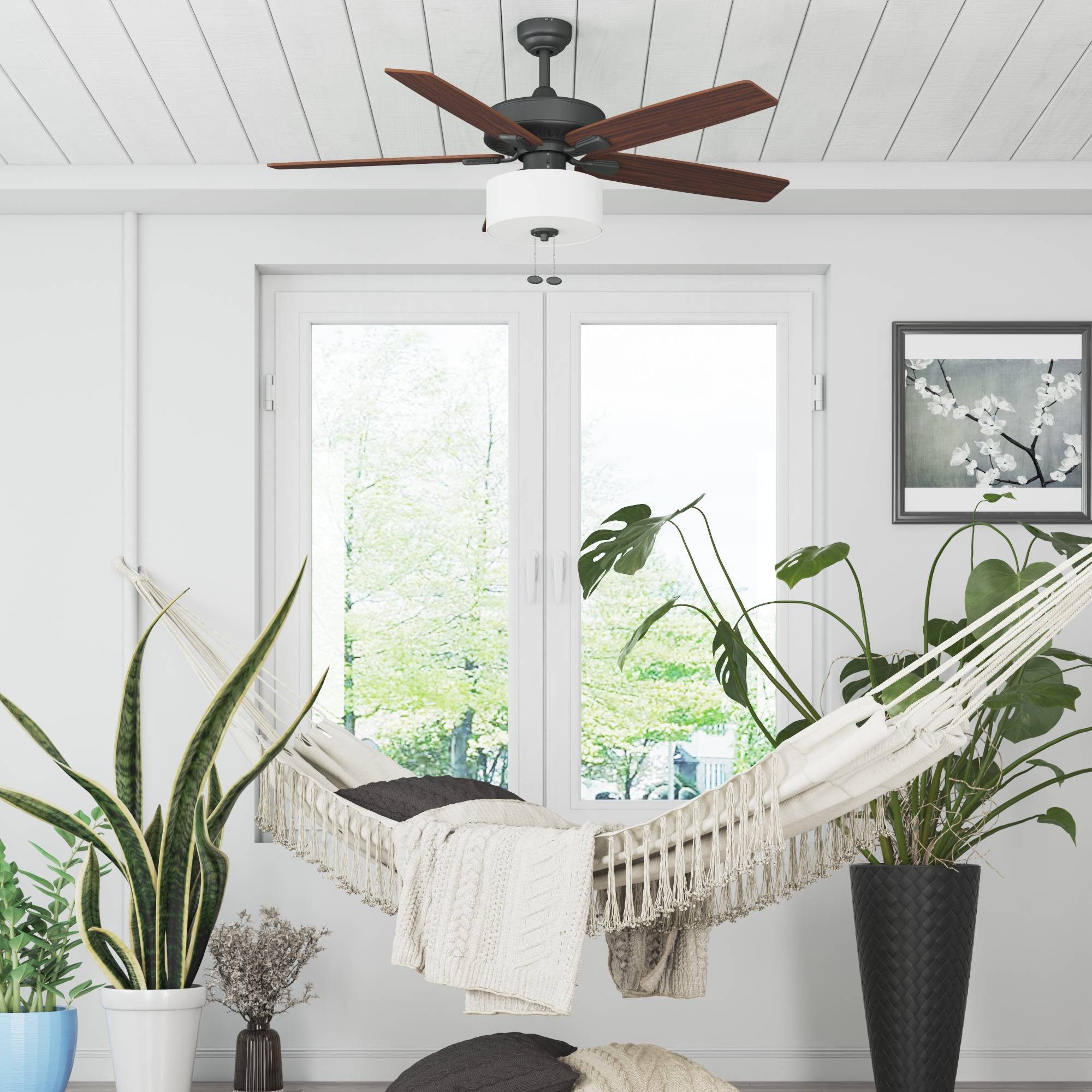 Whether you go all-out in covering your home with vibrant shades or prefer to use more subtle touches and hints, incorporating the color green into your living spaces is an awesome way to create a more stylish, comfortable, positive home.
Want more simple tips on how to upgrade your home with modern ceiling fans that are as beautiful as they are practical?
Check out our

Fan Talk

section for more info on all things ceiling fan, lighting, and home décor.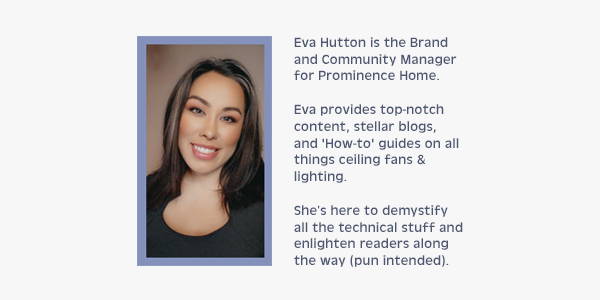 Sign up to hear about the latest news and exclusive offers