Blogs
How to Create the Perfect Outdoor Living Space
Are you designing your outdoor space for the first time or updating it to add style and increase usable living space in your home?
Here are some ideas to help you create a beautiful, welcoming outdoor oasis!
This year, as never before, many people have embraced the creation of outdoor living spaces. An outdoor living space offers a great way to expand the usable space in your home in ways you might not have considered --not to mention allowing you to take advantage of the natural beauty all around you in your local area.
What does your perfect outdoor living space look like?
1. Set the Groundwork
What type of flooring do you want in your outdoor living space? Depending on your budget and the type of design you're looking for, there are a range of available options that can help keep your outdoor living space looking its best.
The flooring you choose provides important groundwork that not only sets the foundation for your living space, but also helps open the floor to specific design elements. You may want to consider:
Concrete
If you're simply designing or updating an outdoor patio, you may find that concrete offers the best option for your outdoor living space. Concrete is long-lasting, relatively easy to pour, and can be cast with specific designs or patterns to add a unique flare to your outdoor space. It also takes very little maintenance and is super easy to clean.
Artificial Grass
If you want to create an outdoor living space that flows seamlessly from that space to the rest of your yard, if you want to surround your outdoor living space with flowers and add a touch of green underfoot, or if you simply like the idea of a soft cushion underneath the feet as your guests move around the space, artificial grass could provide an excellent solution.
Wood
If you're building a deck or raised patio, wood is the obvious solution. Choose a wood or stain that matches the coloring already in place throughout your house or in your outdoor area. Remember that you'll want your outdoor furniture to flow with your space, so you may want to pick out flooring based on the furniture colors you want outside. Wood is super-popular and loved by DIYers the world over, however it does require some maintenance to keep it looking good year after year. Luckily, with good stain and weather protectant wood is beautiful option that can last!
Decorative Rugs
Outdoor rugs can help provide a pop of color, personalize your space, and have it looking its best. Choose a rug that matches your décor or use the rug as the basis for your theme and select the rest of your décor to match.
2.Prepare for Comfort with Outdoor Furniture
Your furniture provides comfortable seating that beckons you out into your outdoor living space, encouraging you to enjoy it as much as possible. Wicker and wood furniture often stand up well to the elements and can be easily matched to your other décor, including your flooring. As you consider what type of furniture you want for your outdoor living space, consider these elements:
What do you want to do in your outdoor space?
Do you imagine curling up in a cozy outdoor chair or sofa to read a good book? Cuddling up with your spouse on a cold winter night? Do you see yourself entertaining groups of family and friends in your newly-created outdoor living space? Carefully consider what you want to do in your outdoor living space and what pieces of furniture best fit your goals.
If you're looking for a cozy reading spot, you may want a cushioned wicker chair with wide arms and an extra outdoor pillow to cuddle with as you read. If you're imagining a romantic interlude, a cushioned outdoor loveseat could provide exactly what you need.
On the other hand, if you're imagining entertaining in your outdoor space, you may want to create several conversation nooks arranged around several different types of furniture. A site for a family barbecue might have numerous outdoor dining room-style chairs around one large table, while a setup intended for more intimate conversation might have one large circle around a central feature.
How many people do you want your outdoor space to accommodate?
Unless you're creating a private escape for one, at a minimum, you want your outdoor living space to have enough seating to accommodate all the members of your family, probably with a plus one or two that will allow you to easily invite friends over to share in your space. Make sure that you consider guest comfort: for example, guests may not want to sit closely with one another on a sofa or loveseat.
How much protection does your outdoor living space offer from the elements?
Creating a gazebo or covered patio can make a big difference for your outdoor living space. Not only does it make it possible for you to enjoy that space in a variety of weather conditions, it can make it easier for you to protect your outdoor furniture and extend its lifespan.
In general, outdoor furniture does not require as much protection from the elements as indoor furniture, which could ruin quickly if left outside for any length of time. If your furniture has cushions for added comfort, however, you may want to either make sure that it has some protection from the elements or that you have storage on hand that will allow you to tuck those cushions away when they aren't in use, extending their usable lifespan.
3. Add in a Little Climate Assistance
Outdoors, you cannot expect to perfectly control the climate the way you can while you're inside your home. You can, however, add several elements that can help keep your outdoor living space comfortable regardless of the season. Consider some of these elements to help you make the most of your space in every season.
Outdoor Ceiling Fans
A great way to keep things comfortable and add some extra style is to add a wet or damp rated ceiling fan to your outdoor space.
A damp-rated ceiling fan can help move a smooth breeze through your covered outdoor living area. Damp-rated ceiling fans are constructed to be extra durable with moisture-protected designs and are perfect for your covered outdoor spaces but not built for direct exposure to the elements!
Wet-rated ceiling fans are built superhero strong and can easily handle intense rain, snow and ice. These fans are built for use in all-weather areas such as pergolas, decks and more. They can also be used indoors or humid/damp rooms if you prefer. Dry-rated fans should never be used outdoors.
Ideally, based on the size of your space, you want to choose a large enough fan that it will create a strong draft. In the summer, that breeze can help keep your guests cooler and more comfortable. In winter, it can help push down warmer air from a fire or heater, keeping you and your guests warmer.
As you're selecting a ceiling fan, consider the benefits of choosing a fan with a remote control. A remote control can allow you to quickly adjust your ceiling fan functions without getting up- comfort is just a button push away! You can change the lighting as the sun goes down and, increase air circulation if you're having trouble with bugs or heat, or decrease airflow to prevent napkins from flying away.
An Outdoor Fireplace or Fire Pit
There's nothing quite like cooking over an open fire to add a little extra flavor to your food. An outdoor fireplace or fire pit makes it easy to roast marshmallows, cook hot dogs, or simply add a little extra warmth to your gathering. For outdoor spaces, a real wood fire is simple to manage and control, and may help add an extra flair to your outdoor living activities.
Firepits and fireplaces can range is price depending on size, functions and how elaborately they are designed, however they can be very inexpensive and easy to DIY. There are gas firepit options which tend to be a little more pricey but offer added ease of use and convenience.
Outdoor Heaters
If you have a partially enclosed outdoor space and depending on the climate of your area, you may choose to use an outdoor heater. These heaters can put off a significant amount of heat, raising the temperature in your space and making it more comfortable as you enjoy time with friends and family members.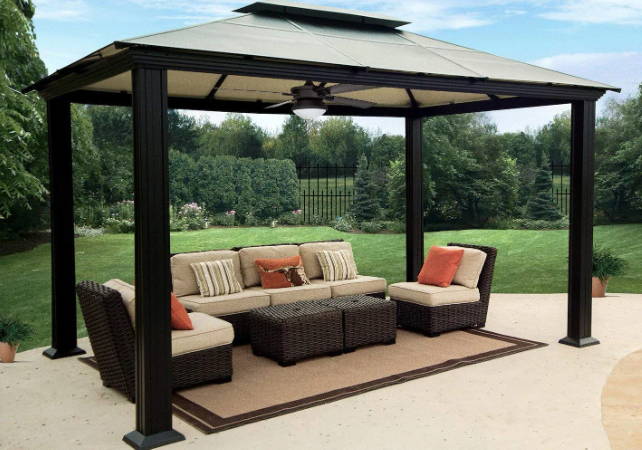 4. Consider Segmenting Your Space
An outdoor living space does not have to have hard walls the way an indoor one does, but you may want to consider adding walls and partitions to help break up the space. Segmentation can make it easier for smaller groups to gather together and help separate your outdoor space from the outdoor play area or pet zones. Use walls, plant hedges or put up partitions to provide a little extra privacy in your space.
You may also want to consider adding a roof to your outdoor living space. Not only does that make it possible for you to install a ceiling fan, a roof can help keep off the rain and even decrease the overall impact of the sun.
5. Layer the Lights
As you plan your outdoor living space, consider how to keep it light no matter what time it is by adding some outdoor lighting. You never know when that outdoor barbecue will become an all-night affair, or when you'll want to curl up with your spouse long after the sun falls. Your ceiling fans may already come with built-in lighting that can help light up your outdoor space, but layering your lighting lets you adjust the ambiance to fit your mood. You may also want to consider:
Task Lighting
Task lighting, or lighting over specific areas, can make it easier for you to manage specific tasks inside your outdoor living space. For example, if you're planning to curl up in your favorite chair with a good book, you may want to make sure that you have a direct light near your favorite chair. If you're planning to manage outdoor cooking tasks, you may want to make sure that you have brighter lights over your grill or cooktop.
Mood Lighting
Consider smart lights that allow you to dim them to create your preferred mood. In some cases, you may want dimmer lighting: when you're in the middle of a romantic evening, for example. You still, however, want to be able to see what's going on around you. Take a look at strip lights that you can install in specific locations or fairy lights that for some added whimsy.
Security Lighting
In addition to the other features of your outdoor space, you may want to carefully consider the benefits of security lighting. Take a look at motion detector lights or bright lights on the corners of your outdoor space, which will notify you about any potential threats that may creep up outdoors. Security lighting can also help chase away animals, who may be drawn to your outdoor space by the smell of food.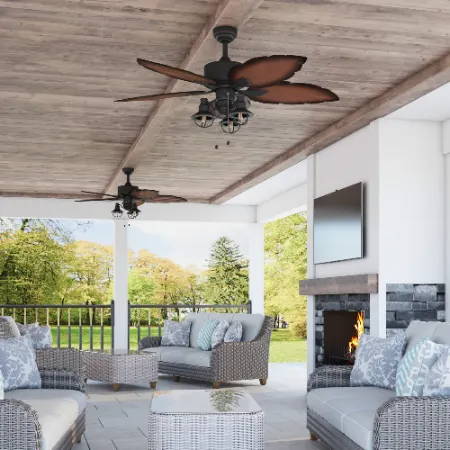 6. Add in the Features You Want Most
Once you've picked out the basic elements of your outdoor living space, consider what you want to add to your space the most. You may, for example, want to consider:
Outdoor Cooking Tools
An outdoor grill may not be the only thing you want in your outdoor space. Consider the benefits of a full-size cooktop or an outdoor stove that can help you prepare full meals outdoors. You may want to consider what outdoor tools you want to add to your living space before you start building, since these will give you a better idea of how much space you need.
An Outdoor Bar or Fridge
In addition to cooking space, you may want to make sure you have access to an outdoor bar or fridge: a place to cool drinks, store leftovers, or tuck away food until you're ready to bring it out when you're partying. You don't necessarily have to have a large fridge, but you do want one large enough to hold the items you want.
An Outdoor TV
Gathering together to watch the big game, family movie night or even an intimate date night can make purchasing an outdoor television a great idea. Watching the games indoors often leaves someone stuck at the grill outside yelling for updates on the score or missing important moments in sports history!
Family movie night is improved by bringing it outside and laughing while you make s'mores and popcorn. While catching up on your favorite shows, cuddled in a blanket under the stars might sound like the perfect recipe for low key date night!
An outdoor living space is an excellent way to allow you to get more enjoyment out of your home. Building the perfect one may take some effort, but it's well worth the work you'll put in. By considering these elements before you get started, you'll find yourself in a better position to enjoy your outdoor living space for years to come.
Want to learn more about outdoor ceiling fans?

Check out our

Blog

section for more information on how to keep things cool and comfortable no matter the outside temperature!
Sign up to hear about the latest news and exclusive offers