Blogs
Product Spotlight: Octavia
Introducing one of our favorite industrial farmhouse collections- The Octavia!
You are going to love the Octavia!
Modern industrial design elements meet vintage, rustic allure for the ultimate fusion of style with the 52-inch Prominence Home Octavia indoor ceiling fan.
With its sleek, minimalist design, convenient features, and durable structure, the Octavia will provide unparalleled style and comfort to your home's most frequented living spaces.
The Octavia is available in four eye-catching finishes to complement a variety of different rooms- whether will add a contemporary, industrial touch to nearly any large space in your home.
Ample Size
With blades that measure 52", the Octavia is ideal for rooms that measure up to 18 feet by 20 feet. Its ample, stream-lined blades make cooling and circulating the air in your home's most spacious rooms a breeze, including living rooms, offices, kitchens, and more.
For an amazing eye-catching accent in a larger room, place multiple Octavia and see how family and friends are amazed by the jaw-dropping view!
Edison Bulbs: A Cut Above the Rest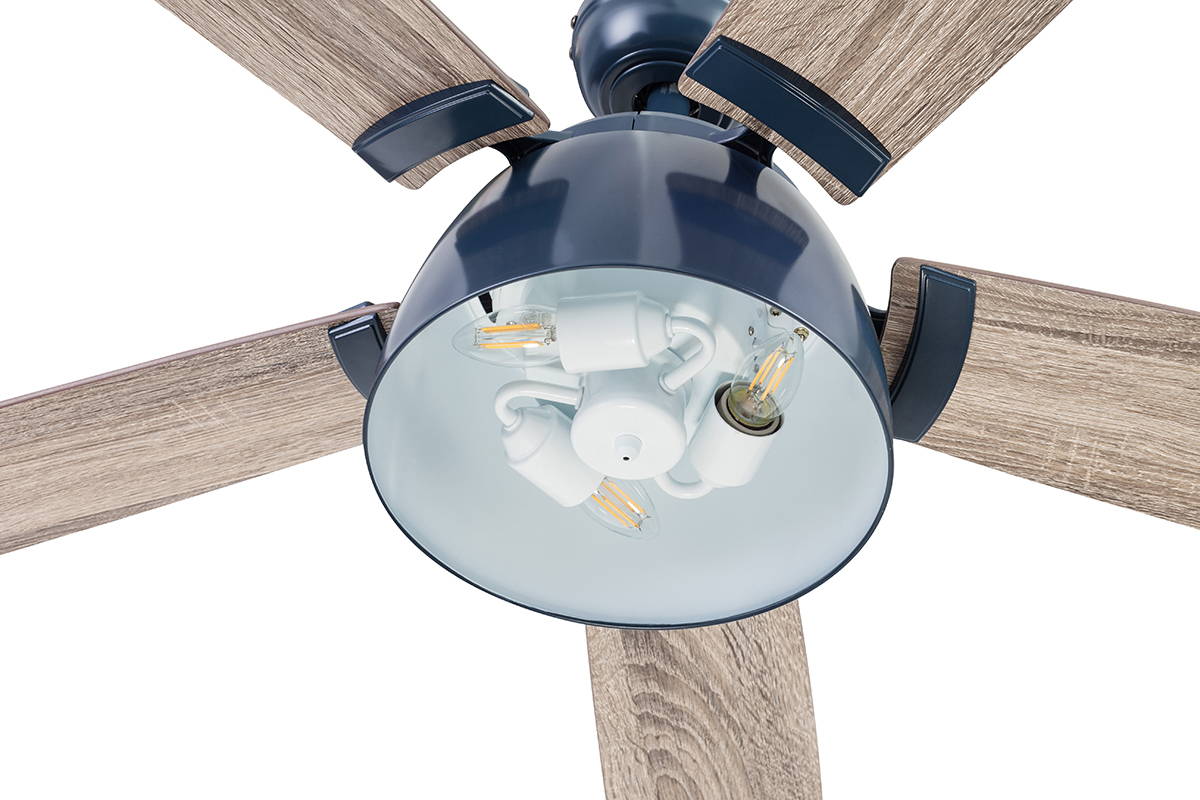 One feature that sets the Octavia apart from other indoor ceiling fans is its state-of-the-art Edison bulb design (included in your purchase). These exclusive, LED bulbs are specially curated to look like the original bulb created by Thomas Edison himself, with a thoughtful filament design that you can see when you look at the fan.
The Edison bulb's warm light will not only adequately illuminate the space but will also enhance the overall appearance and ambiance of the room.
While classic in appearance, the Edison bulb is anything but antiquated. Its modern technology offers many more advantages than the previous version's design, including being more energy-efficient and longer-lasting than the original Edison bulb.
For your convenience, the Edison bulb also features convenient, modern controls, such as the ability to dim your lights to control the lighting level throughout the room with the click of a button.
Inside the hood of the Octavia, you'll find an accent finish that helps complement the overall look of the fan and reflect the light given off from the bulbs.
Why is this important? It will help maximize the available light within the room without requiring additional wattage, which means more bang for your buck and more beautiful ambiance!
Plenty of Finish Options to Choose From
The Octavia comes in four gorgeous finishes: Sapphire Blue, Matte Black, Iron, and Bright White. These color choices make the Octavia the perfect complement for virtually any room design, allowing you to elevate your room's style while coordinating with the existing decor. Each fan comes with reversible blades that provide a unique finish on each side, giving you the option to customize your fan blades to suit your preferred style.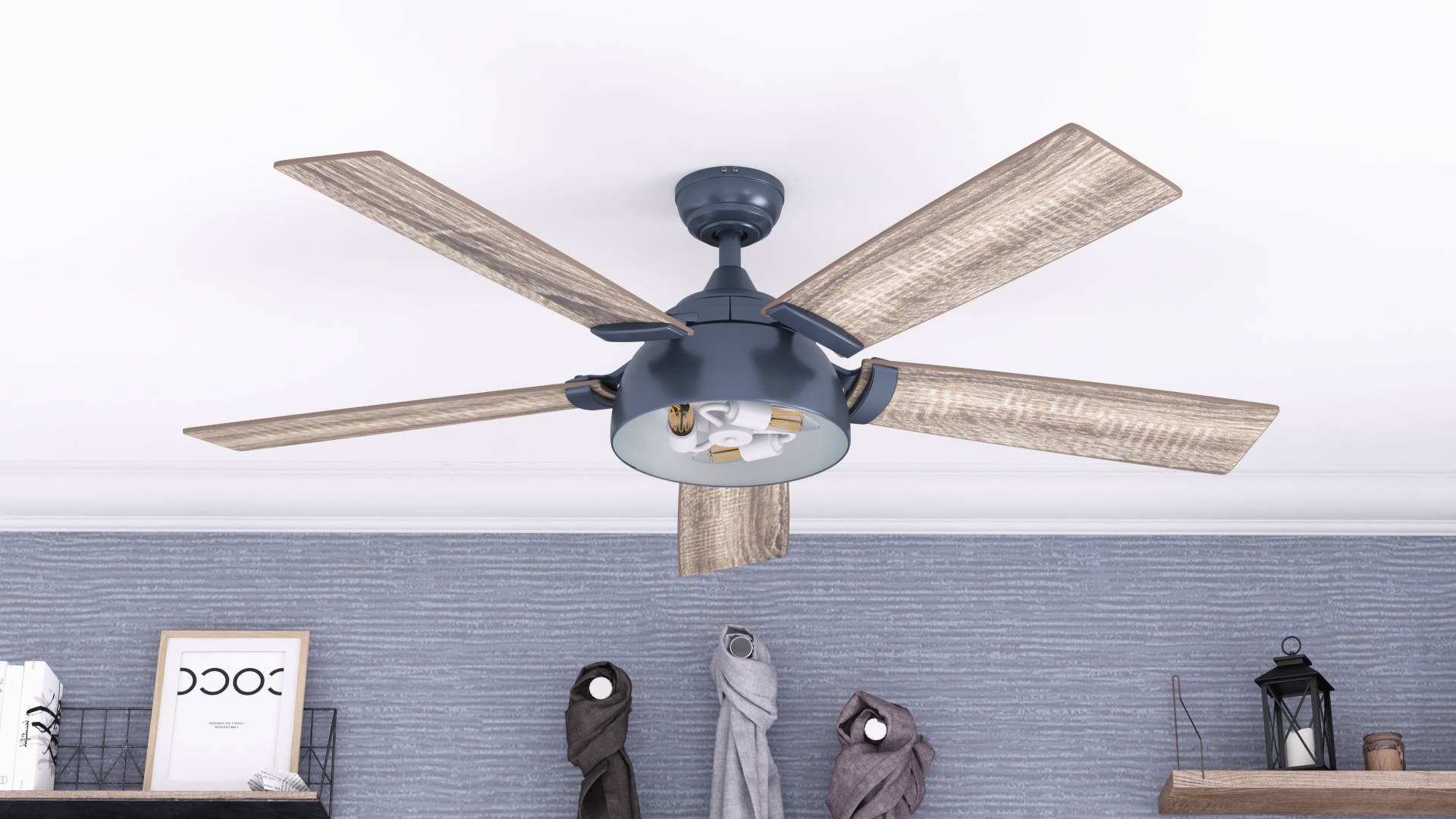 Sapphire Blue

With a Rough Pine blade finish on one side and a rich French Oak color on the other, the Sapphire Blue Octavia exudes contemporary, rustic charm.
Whether you are striving to embrace a country chic, coastal contemporary, or understated minimalist aesthetic in your home, the industrial simplicity of the blue sapphire Octavia can effortlessly transition from one style to the next.
It's extraordinary blue finish is sure to add a visually intriguing touch with an elegant pop of color, while still being subtle enough to not distract from the rest of your home's decor.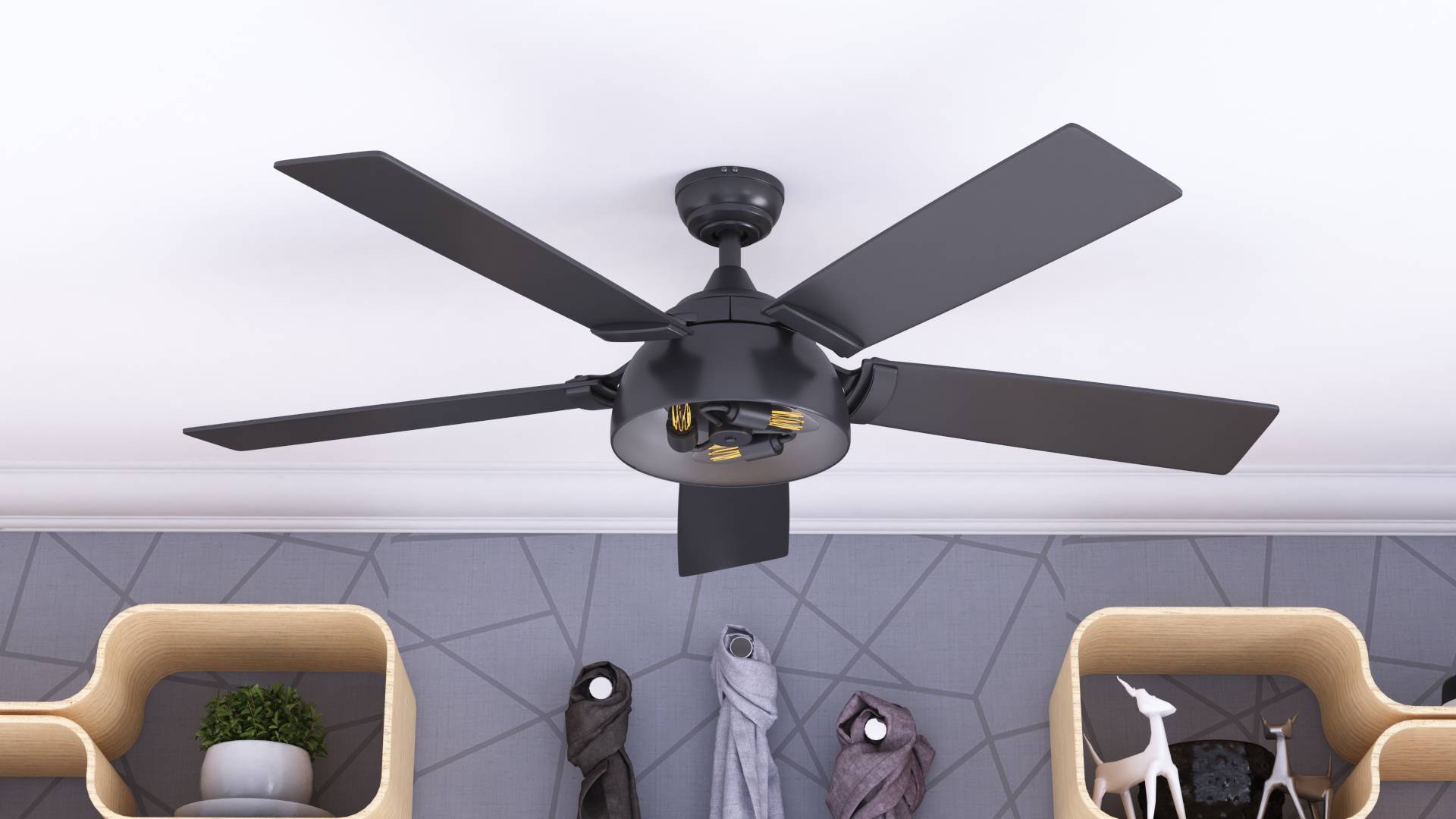 Matte Black
Dramatic, chic, and refined, the matte black Octavia has matte black fan blades on one side and a smooth walnut finish on the other. The matte black blade finish is perfect to achieve an edgy, contemporary feel, while the walnut blades can help create a warm, inviting ambiance to the space.
Pair the black on black Octavia with light neutrals for a fresh, contemporary feel or opt for the black and walnut combination to create a clean yet charming vibe.
This matte black fan is also an excellent option to bring drama and visual interest up and achieve the ultimate eye-catching look.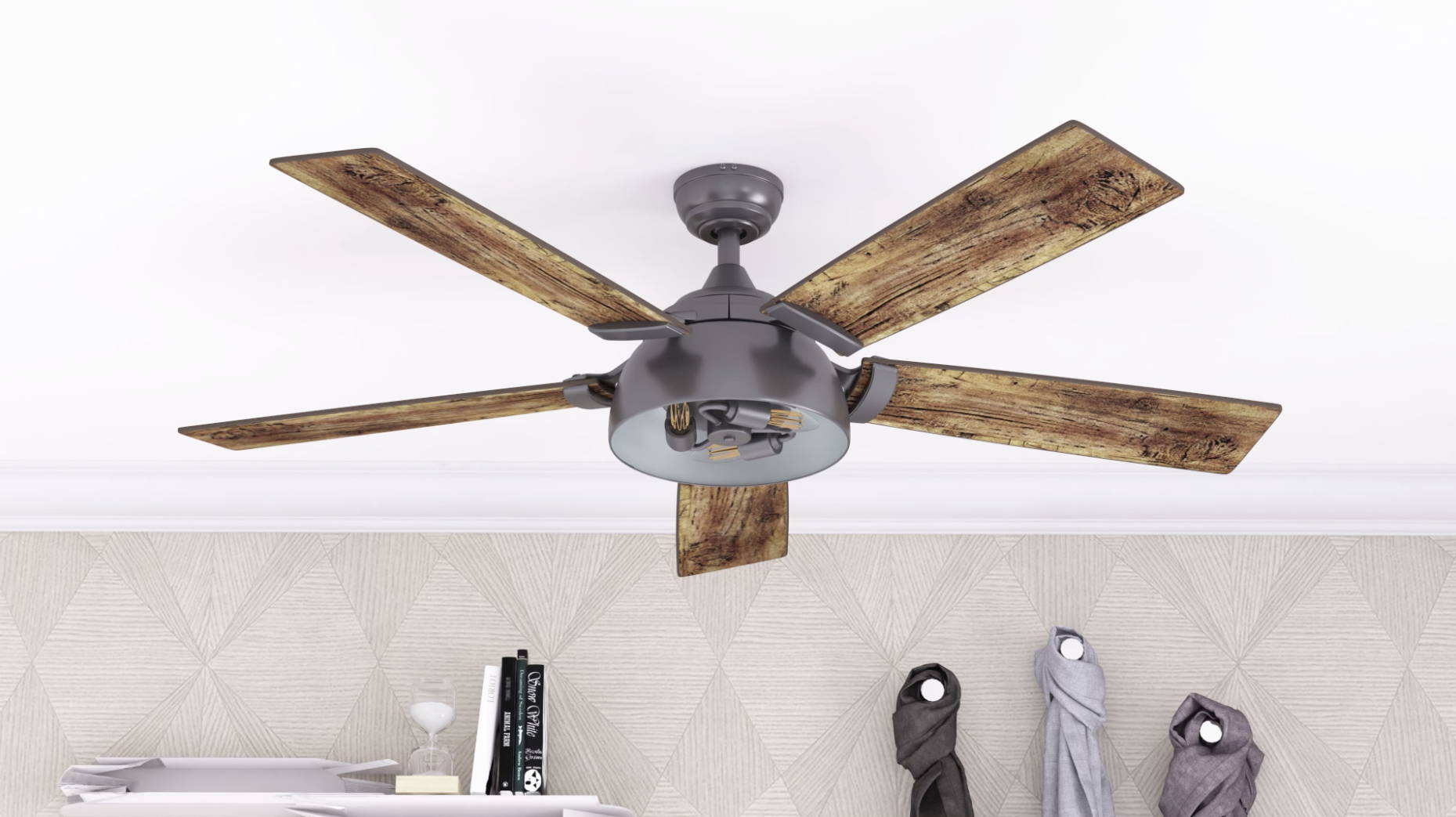 Iron
With handsome chestnut blades on one side and cool gray oak on the other, the iron Octavia offers a one-of-a-kind aesthetic that is sure to catch the attention of anyone who steps foot in your home.
The gray oak blades pair perfecting with the rich gray tones in the iron globe, while the chestnut blades can effortlessly add dimension and character to the room.
The iron Octavia's industrial modern design would work beautifully in many rooms, including kitchens, dining rooms, living rooms, and more. Its simple, clean design is sure to add a stylish, relaxing element to your home.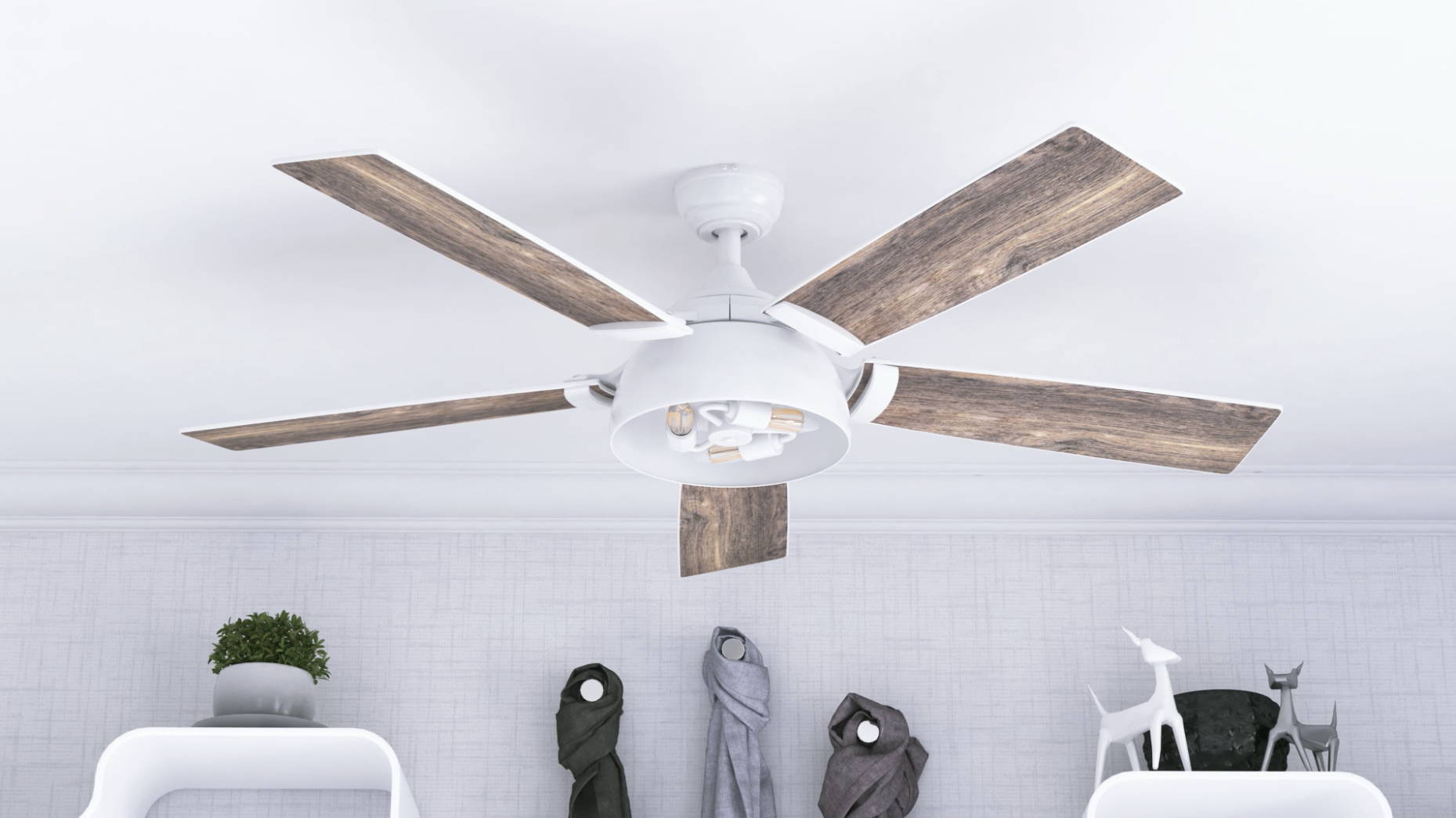 Bright White
The bright white Octavia's pristine appearance will enhance your entire room with ease. Its bright white fan blades can help open up and illuminate otherwise dark rooms while the warm oak blades can add a neutral yet inviting ambiance to nearly any space in your home. With either the bright white or oak blades, the bright white Octavia can help your room feel polished and sophisticated without being fussy or over-the-top.
No matter what your home's existing style may be, the Octavia fan can help you achieve the look and feel you have in mind. Whether you are trying to make a bold statement or simply need a subtle finishing touch to complete a room, the Octavia's exceptional design and diverse color and blade options are sure to fit your home's particular needs.
Indoor Design
The Octavia is designed exclusively for indoor use. It is not rated for wet or damp environments, so you should not install the Octavia on a covered patio or use it in an outdoor setting. Inside your home, the moisture levels are low and this ensures the lifespan of your Octavia and the safety of your home.
Convenient Comfort with the Included Remote Control
The Octavia offers a number of convenient features that can help you make the most of your fan and maintain the ideal comfort level of your home.
Turn the Fan On and Off
Thanks to the convenience of the remote, it's easy to turn your fan on when you'd like to bring down the temperature of the room or simply create air movement.
When you're ready to leave the room or it's reached your desired temperature, simply turn your fan down or off with your Octavia remote. The remote makes fan control considerably easier and more convenient, so you can use your fan as you see fit without having to get up every time it needs to be adjusted.
Control Fan Speed
Having the option to conveniently control the speed of your Octavia fan is equally as important as being able to turn it on and off. After all, your home may need more air flow on hot days or less during specific activities, such as meal times.
With your Octavia remote, you can easily control the three speed settings of your fan(low, medium and high) and maintain your room's ideal environment at any given moment all from the comfort of your favorite chair.
Adapt Your Lighting
The Octavia comes with state-of-the-art Edison bulbs, which provide a warm light throughout your entire room. While you may need to fully illuminate the space on some occasions, having the option to dim the lights (just press and hold the light button) as needed can also be beneficial in many rooms.
Walk-Away-Delay
This super convenient function is perfect for when you are ready to tuck in for bed or leave for the day. This button causes the fan light to say on for 60 seconds to allow you to leave the room before it turns off.
Variable Breeze
This simulates a refreshing breeze- it rotates through the three speed settings to provide comforting pleasant increases and decreases in airflow similar to what you would find in nature. Simply press and hold this button to activate and press any of the fan speed buttons to cancel.
Home Shield
This amazing function simulates occupancy while you are away from home. The fan will remain off however the light will randomly turn on a minimum of five times for a maximum of 20 minutes.
Durable
Along with being stylish, efficient, and convenient, the Octavia is known for its strength and durability. Whether you plan to use it daily in your living room or on occasion in your office, you can rest assured that it will look great and function well for years to come. It is built to last, so that you can count on it to keep your room as comfortable as possible through the changing seasons year after year.
Easy Installation
The Octavia has a dual-mount system that can be hung by a standard downrod or hung on an angled ceiling. If you need an angled mounting bracket, for ceilings with a greater angle than 17 degrees, it will be necessary to purchase a separate mounting bracket in order to install the Octavia properly.
Using the right mounting equipment will help ensure a secure fit that will keep the Octavia in place for many years, allowing it to continue to enhance the overall look and comfort of your room.
Most people find that they can install the Octavia within about 45 minutes to an hour. You won't have to hire a professional to take care of the installation, since it comes with easy-to-follow instructions that will make it a snap for you to properly mount and install the fan all on your own.
Whether you're simply replacing an outdated ceiling fan or aiming to revamp an entire room, you can have the Octavia running and ready for action in as little as one hour.
Which Octavia is Right for You?
The Octavia is an eye-catching indoor ceiling fan that is sure to enhance the comfort, decor, and overall style of nearly any room in your home. Before investing in a new indoor ceiling fan, it's important to identify your room's particular needs. Here are some factors to keep in mind before determining which Octavia fan is the best option for you.
How large is your room?
The Octavia works best in large rooms. With 52'' blades, the Octavia is ideal for rooms measuring up to 18 feet by 20 feet. If your room is larger than this, you may need to consider installing two ceiling fans to optimize the air flow and comfort of the space.
When in doubt, it's best to measure the space to ensure that the Octavia can adequately circulate air around the room you are redesigning.
What color is your room?
With a variety of colors and styles to choose from, the Octavia will pair beautifully in nearly any home design. The illustrious iron, white, black, and blue sapphire finishes along with the numerous fan blade options will make achieving your ideal home style simple with the Octavia. Regardless of whether you are aiming to embrace a shabby chic aesthetic or make a sophisticated statement, anything is possible with the Octavia.
How much light do you need in the room?
The included Edison bulbs that are included in the purchase of your Octavia fan have the power to adequately light a whole room, but can also be dimmed according your needs. With the included bulbs each fan offers 450 lumens, 5 watts - 90 lumens per watt. The color temperature is 2700K and it is dimmable 20%-100%.
---
With its refreshing modern design, the Octavia is a popular fan choice that can help you effortlessly highlight the unique style and atmosphere of virtually any room in your home.
Check them out- we think you are going to love them as much as we do!
Want to read more tips, tricks, and how-to guides?
Check out our

Fan Talk

section for more info on all things ceiling fan, lighting, and home décor.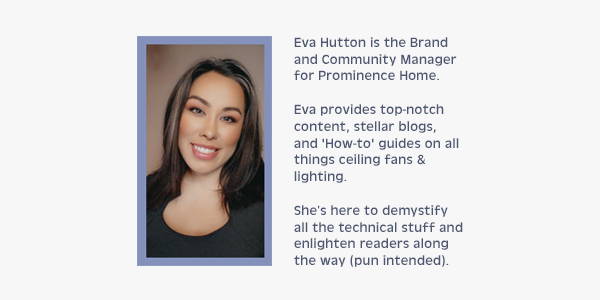 Sign up to hear about the latest news and exclusive offers